Last month, hundreds of Belizeans, visitors and clergy attended the consecration of Bishop Philip Wright, the 14th bishop of the diocese of Belize, at St. John the Baptist Cathedral in Belize City. The Primate of the West Indies, Archbishop Drexel Gomez, consecrated him.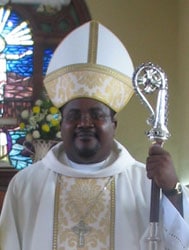 At 38, Bishop Wright, is the youngest bishop in the Anglican province of the West Indies. He succeeds bishop Sylvestre Romero who resigned in 2004.
Under the constitution of the province of the West Indies, the House of Bishops nominates a bishop; there are no elections because the church is small in terms of membership.
One of the challenges Bishop Wright will be faced with is addressing the shortage of clergy within the diocese. There are five full-time paid clergy. Another five are on limited term and a few assist as volunteers.
The diocese is made up of 28 congregations of which 25 are English-speaking and three are Hispanic.
"In 2006, the diocese will be faced with a shortfall of clergy as half of those serving as volunteers will be leaving," said Clementina Thomas, Volunteers in Mission (VIM), program assistant, who recently visited Belize and represented the Anglican Church of Canada at the consecration of Bishop Wright.
Limited accessibility to some congregations also hinders clergy in their ministry, said Ms. Thomas. "Because of the distances, poor roads and lack of transportation, it is difficult for the clergy to reach other congregations," she explained.
The diocese also runs a pre-school, 18 primary schools and one high school, with a total enrollment of about 5,000 students. There are about 215 teachers.
The Anglican Church of Canada has a long-standing relationship with the diocese of Belize. Five theological students have served as interns in the diocese and presently there are two Volunteers in Mission. It also supports the diocese with grants given to the province of West Indies which are then disbursed to other diocese.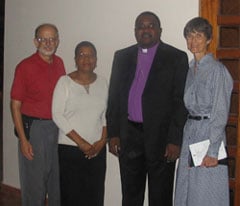 In September 2005, Rev. Stanley Isherwood, from the diocese of Toronto started work as pastor-in-charge of St. Joseph's Anglican Church in the village of Punta Gorda. He is on a one-year placement.
Another volunteer, Rev. Tess Medows from the diocese of New Westminster will be completing her two-year placement at the end of the year. She came to Belize in 2003 and is currently serving in the parishes of Mango Creek, Monkey River and Punta Negra.
"With all the challenges they have to go through, it was encouraging to see how both Tess and Stanley have adjusted in the different communities they serve," said Ms. Thomas.
---
Interested in keeping up-to-date on news, opinion, events and resources from the Anglican Church of Canada? Sign up for our email alerts .