Canadian Anglicans took a step forward in considering the Anglican Covenant with the passing of resolution A137: Anglican Communion Covenant at General Synod 2010 on Thursday, June 10.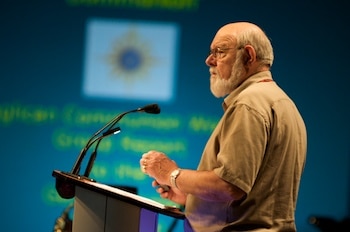 Bishop George Bruce, chair of the Anglican Committee Working Group provided an introduction to the work of the committee, which has participated in the process of reviewing and providing feedback to the draft. A General Synod 2007 decision affirms the Anglican Church's involvement in the process of drafting "A Covenant for the Anglican Communion".
"There have been lots of changes since the Nassau document," said Bishop Bruce, referring to a previous version of the covenant that was met with concern. "The text is a significant approval over that drafts. Virtually all Canadian concerns have been addressed."
Bishop Bruce explained that the Anglican Communion Covenant is a series of affirmations and commitments offered to the provinces of the Anglican Communion with the intention of strengthening the bonds of affection and relationships amongst the provinces for the common witness and mission.
In the Archbishop Fred Hiltz's Presidential Address at the start of General Synod 2010, he stated that he had every hope that the church would embrace the request to consider the Covenant and use any study materials created by the Anglican Communion Working Group faithfully. "All of our work in this regard is in keeping with our commitment as a member church with The Communion," he said.
Resolution A137: Anglican Communion Covenant calls for the General Synod to receive the final text of the Covenant for the Anglican Communion; request that materials be prepared by the Anglican Communion Working Group for parishes and dioceses for study and consultant; and to direct the Council of General Synod, after consultation and study, to bring a recommendation regarding the adoption of the Covenant for the Anglican Communion to General Synod 2013.
The approval of resolution A137 is, "a strong endorsement of this church's involvement in the communion," said Archbishop Hiltz. "I hope this sends a strong message to the Anglican Communion regarding this church's place and witness in the communion."
Over 350 delegates and special guests have come from coast to coast to coast across Canada for this nine-day event, which takes place each triennium. Further details and highlights are available online at www.anglican.ca.
---
Interested in keeping up-to-date on news, opinion, events and resources from the Anglican Church of Canada? Sign up for our email alerts .