Several years ago, the son of a northern Ontario chief, an Anglican, died in a Thunder Bay hospital.  The chief said that the Church had failed him and his family because his son did not receive a visit by an Anglican priest.  When Bishop Stephen Andrews (Algoma) became aware of this, he was deeply concerned about the need for better support for indigenous Anglicans in his diocese—especially those who travel from the far north of Ontario down to Thunder Bay for medical or educational services.  In many cases, it is as if a diocesan boundary comes between them and the pastoral care they need.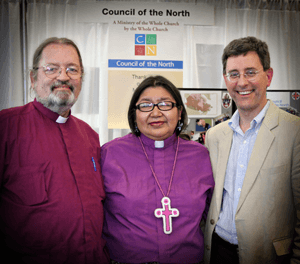 Many travel for services, and many stay.  In fact, Andrews points out: "There's a demographic shift that's happening: people often come off the reserve to Thunder Bay, young people often stay in the urban centre so there's a growing population."
In terms of pastoral care, this was becoming a serious concern. Bishop Lydia Mamakwa (area bishop, based in Kingfisher Lake, ON) says: "It's the language barrier and some of them have never been to a city and they're not familiar with the surroundings."
Having heard about the death of the chief's son, two years ago Andrews contacted Mamakwa. "I invited her to come to Thunder Bay along with Bp. Mark Macdonald [national Indigenous bishop], to have a consultation on First Nations ministries in Thunder Bay."
Out of this consultation came a committee called MAMOW—"together." This committee ensures that Anglicans travelling south receive, as Mamakwa puts it, "services in their language, because I can read, and speak, and pray, and sing in their language–Oji-Cree." "We have communication open so I can call if someone needs a clergy in hospital or for wake services.  It's working out fine."
This new arrangement has only been made possible through a flexibility around diocesan borders and structures.  Andrews points out: "One of the interesting things about this is that I gave Bp. Lydia licence to function episcopally in Thunder Bay–the 1st time this arrangement has been made in Canada–but she reports to me on her activities and I'm very excited about what's happening."
For her part, Mamawka says, "I'm thankful this relationship is growing—it's all for the glory of God."
---
Interested in keeping up-to-date on news, opinion, events and resources from the Anglican Church of Canada? Sign up for our email alerts .