For Richard and Nancy Bruyere, it's a full life.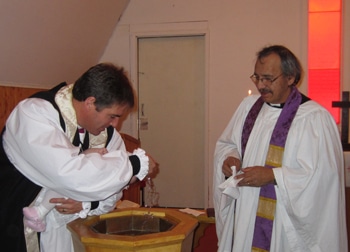 Nancy was recently named suicide prevention coordinator for Western Canada and the Arctic by the national church's Indigenous Ministries department, and Richard works full time as an engineer for Manitoba's East Side Road Authority, building all-weather roads on the east side of Lake Winnipeg.
Richard and Nancy are also non-stipendiary (unpaid) priests in the Diocese of Keewatin, serving not only their own community of Sagkeeng First Nation in Fort Alexander, Man., northeast of Winnipeg, but also the nearby communities of Little Black River First Nation, Hollow Water First Nation, and Manitgotagan.
"It's very challenging," says Richard. "Two or three o'clock in the morning, we'll get a call from relatives of people that are sick in Winnipeg… So we get called to Winnipeg and we go pray for people in the hospital. It is challenging, but it's also very rewarding."
Support from Council of the North—a group of financially assisted dioceses in sparsely populated areas across Canada's north—and their local church helps Nancy and Richard.
"It helps us a lot. One of the things that really helps is that we're not alone. There are a lot of other people in our position, like clergy, facing the same things, and we tell each other stories and that's a support for us."
Council of the North has also helped Richard and Nancy with their education. The Bruyeres studied at the William Winter School of Ministry in Kingfisher Lake, Ont., spending two weeks twice a year for four years completing intensive course work. Council of the North helped fund that education, which in turn enabled essential spiritual support to four different communities through the dedicated work of Nancy and Richard.
Ministry in many forms
Council of the North also helps fund Henry Budd College for Ministry in The Pas, Man., in the Diocese of Brandon, where women and men—mostly Anglican and mostly Aboriginal—are prepared for ministry and other kinds of service in their own communities.
"The priests and deacons and other ministers in the communities aren't just parish priests," says Marion Jenkins, the school's Coordinator. "They're called on for all kinds of things, like counselling—many of them work as addiction counsellors in their communities."
Some of Henry Budd's programs help prepare students for work that might be considered social service, but with a faith background. Students from Henry Budd College have returned to their communities to provide support not only as clergy and addiction counsellors, but also to help with health care needs, and fill chaplaincy roles.
Henry Budd is affiliated with the native ministries program at the Vancouver School of Theology, and delivers the extension portion of VST's native ministries Master of Divinity program. The school also offers a diploma program, and is in the process of negotiating a formal relationship with St. John's College in Winnipeg.
"Up until the college was formed… all of the clergy in the north were non-Aboriginal—they came from somewhere else," says Jenkins. "Now, all of the clergy serving Aboriginal communities are Aboriginal. I think generally the communities are better off with native clergy… I think it has been a real positive influence."
For more ways to help the mission of the Anglican Church of Canada, keep an eye out for the Gifts for Mission catalogue-bundled with your October 2013 issue of the Anglican Journal. Or request an advance copy: email Jacqueline Beckford or call her at (416) 924-9199 ext. 299.
---
Interested in keeping up-to-date on news, opinion, events and resources from the Anglican Church of Canada? Sign up for our email alerts .