As a debut on the international stage for a newly elected Primate, Archbishop Andrew Hutchison's trip to Cuba (Feb. 15 to 18) could not have gone better if it had been scripted.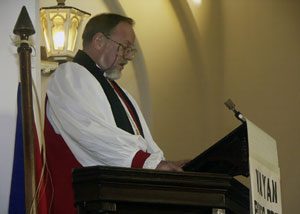 In a whirlwind three-day tour of the Episcopal Diocese of Cuba, the Canadian Primate managed to preside over a meeting of the Metropolitan Council (which the Canadian Primate traditionally chairs) attend the start of a diocesan synod, spend time with Anglican students at a seminary in Matanza, a two-hour drive away from Havana, and preach his first sermon in Spanish.
Archbishop Hutchison, who has made young people a priority since his election to the primacy last June, had specifically asked for the meeting with the students at Matanza.
The sermon, delivered at the Eucharist opening the three-day diocesan synod, was a hit with the congregation and came with an explanation from Archbishop Hutchison that he had written it in English, had it translated into Mexican Spanish by a staff member and retranslated in Cuban Spanish by a diocesan secretary Francisco de Arazoza. Archbishop Hutchison (who is fluent in English and French but who does not speak much Spanish) read the text of the sermon to a raptly attentive congregation.
It was the Canadian Primate's first visit to Cuba and the trip served to cement an especially close relationship between the Canadian and Cuban churches that dates back to a structural rift with the U.S. Episcopal Church that followed the Cuban revolution. Cuba is not formally part of any Anglican province and the Cuban bishop is therefore supported by a Metropolitan Council.
The meeting of the Council heard an upbeat report on the state of the Cuban diocese from Bishop Miguel Tamayo of Uruguay who is overseeing the diocese on an interim basis. Bishop Tamayo, alternates residences, spending six months in Uruguay and six months in Cuba.
In his short visit before leaving to fly to Belfast to attend the Primate's Meeting, Archbishop Hutchison also called on and spent an hour with Caridad Diego, the Cuban Minister of Religious Affairs, Canadian Ambassador Alexandra Bugailiskis and Jaime Cardinal Ortega, the Roman Catholic Cardinal of Cuba.
The meeting with Ms Diego was especially welcome by the Canadian Primate, in light of relatively recent statements by the Cuban government to the effect that Cuba considers itself a secular state as opposed to an atheist state.
Links:
---
Interested in keeping up-to-date on news, opinion, events and resources from the Anglican Church of Canada? Sign up for our email alerts .