Grace Mee Bya and her husband Andrew S'Zaw Lwin first came to Canada from Myanmar in 1997. They did so with the help of the Anglican Church of Canada's International Bursary and Scholarship program—a program funded by the generous giving of Anglicans across the country.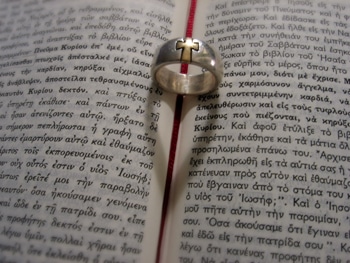 They built a new life in Vancouver. Grace and Andrew pursued their master's degrees at the Vancouver School of Theology, and they had a daughter together, Emmanuella. After receiving their degrees they returned to Myanmar to serve the church there, then came back to Canada a few years later to pursue doctoral education. Now—16 years since they first came to Canada—Grace and Andrew also have a son, Shalom. Andrew received his PhD in homiletics in 2011, and Grace recently received her own doctorate—a D.Min. with a focus on traditions of Anglican spiritual formation. They have just moved their family back to Myanmar.
There Grace and Andrew will teach at Holy Cross Theological Seminary, which is the national Anglican seminary in Yangon (Rangoon). Andrew returns to a position as a professor of homiletics, while Grace will help shape the seminary's approach to spiritual formation in the context of the local culture.
"The experiences we have received in Canada are invaluable for us, for our family, and for the church in Myanmar," Grace and Andrew wrote recently in a letter of thanks to the Primate, Archbishop Fred Hiltz. "Thank you so much for your generosity and kind support. Because of your support we were able to study in Canada, and hope to be able to work more effectively in Myanmar."
Suddenly a bishop
Maimbo Mndolwa is the bishop of the Diocese of Tanga in Tanzania. Not so long ago, Maimbo was the principal of St. Mark's Theological College in Dar es Salaam. Under his leadership the college became a hub for St. John's University of Tanzania, and he became director of what has since become the School of Theology and Religion.
Maimbo then felt God leading him to something else. He experienced a driving need to know his church better. The International Bursary and Scholarship program offered Maimbo the chance to do exactly that.
Maimbo was able to find a program closer to home and family at the University of KwaZulu-Natal in Pietermaritzburg, South Africa. There he studied church history; his dissertation was entitled From Anglicanism to African Socialism: The Anglican Church and Ujamaa in Tanzania (1955-2005).
During his studies—and much to his surprise—Maimbo was elected bishop of the Diocese of Tanga. He took up his duties as bishop in 2011 while continuing his studies. Those studies concluded this spring. Now, thanks to the International Bursary and Scholarship program, the Diocese of Tanga stands to benefit from a bishop with a deep understanding of the history of his nation's Anglican church.
"I thank God that the Anglican Church of Canada, which I was in contact with since 2007, gave me the scholarship which helped me to start my PhD," says Bishop Maimbo. "I feel more confident now to speak about the Anglican Church of Tanzania than ever before. I have the courage now to speak to the government about social issues."
Expanding the scope
The International Bursary and Scholarship program has done a great job of helping promising candidates get doctoral-level education that they might not have had access to otherwise. Recently the Anglican Church of Canada's global partners requested that the program continue to grow by broadening its focus.
Support for entry-level theological education will remain, but the program's scope will expand to cover other ways of teaching and equipping church people for ministry.
Overall, the program will become more flexible and responsive to local requests for educational training and opportunities—including education for lay leaders, youth leaders, and church administrators.
---
Interested in keeping up-to-date on news, opinion, events and resources from the Anglican Church of Canada? Sign up for our email alerts .