Archdeacon Michael F. Pollesel has resigned as General Secretary of the Anglican Church of Canada, effective Oct. 31, 2011. As General Secretary, Archdeacon Pollesel, 61, functioned as chief operations officer at the national office, where he coordinated communications and programs among departments and dioceses. He has served in this position since January 2006.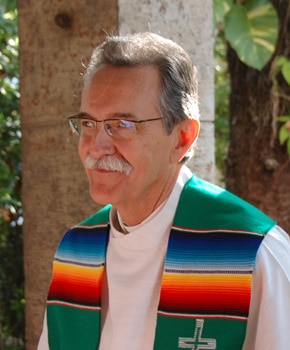 In an interview, Archdeacon Pollesel said he is leaving for personal reasons. He has considered this move with much prayer.
"I would like to say thank you to Anglicans and others who have supported me and continue to support me around the church," said Archdeacon Pollesel. "I deeply appreciate it."
In December 2009, Mr. Pollesel was seriously injured in a car accident that also killed his wife, Gini, and injured his mother. He was away from the national office for six months, returning in late June, 2010.
In a memo to General Synod staff and affiliated corporations, the Primate praised Archdeacon Pollesel's work. He acknowledged his "care and diligence in fulfilling the multiple responsibilities associated with the Office of the General Secretary through what has been a time of considerable transition in the General Synod and at Church House."
Archdeacon Pollesel said his first meeting with the Anglican Council of Indigenous Peoples, in spring 2006, was a highlight of his work. "I really felt like it was a place that I belonged," he said.
He has also enjoyed working with the worldwide network of provincial secretaries and participating in General Synods.
During his time as General Secretary, Archdeacon Pollesel has been an essential link in improving relations between the Anglican Church of Canada and the Iglesia Episcopal de Cuba. He is fluent in English, Spanish, Italian, and French.
Archdeacon Pollesel was ordained a deacon in the Diocese of Toronto in 1979 and a priest in 1980. He obtained his Masters of Divinity from Trinity College, Toronto, and a doctorate in ministry from Colgate Rochester Crozer Divinity School in Rochester, N.Y. He has worked in the Diocese of Toronto and from 1994 to 2005 he served in the Diocese of Ontario, first as rector of St. Thomas Church, Belleville. Later on he worked as stewardship education coordinator, then interim diocesan executive officer.
In accord with the constitution of the General Synod, the Primate has asked the Council of General Synod to appoint a search committee to find a successor. Robert Falby, prolocutor of General Synod, will serve as chair of this committee.
---
Interested in keeping up-to-date on news, opinion, events and resources from the Anglican Church of Canada? Sign up for our email alerts .