A hope-filled and Spirit-led tone graced the closing Eucharist service of General Synod 2010 as members were sent on their way, Feeling the Winds of God — Charting a New Course, and the 39th session came to a close on Friday, June 11. For nine days at St. Mary's University in Halifax, Nova Scotia members worshiped, prayed, deliberated, and discerned where God was calling the Anglican Church of Canada.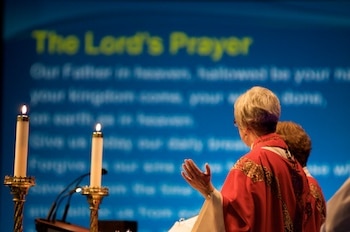 National Bishop Susan C. Johnson of the Evangelical Lutheran Church in Canada presided and Archbishop Fred Hiltz preached during the service that was uplifting in both its use of hymns and message.
Drawing on the Gospel of Matthew, Archbishop Hiltz spoke of the parallels he saw between Saint Barnabas and the members of General Synod. "Barnabas was among those who believed in Jesus. He was faithful to the Lord," he said. "In this General Synod, we have celebrated the grace of God and the grace of God has poured over this General Synod."
Archbishop Hiltz recalled stories of faith and commitment witnessed at General Synod.
Through the Anglican Church's partners and guests, "we have seen with our very eyes and heard with our very ears the grace of God," he said.
"Through Vision 2019 we have renewed our heart in the service of God's mission. We have renewed our commitment to know and love and follow Jesus," he continued, also noting that members explored the Five Marks of Mission through daily Bible study.
"What happened here?" asked Archbishop Hiltz reflecting on the positive outcome of General Synod.
"I think that the Holy Spirit has called this church out of a time when we tried to resolve so many contentious issues through resolution, heated debate, fierce confrontation on the floor of synod, and subsequent hurt and anger and frustration and discouragement," he said. "The Spirit has called us out of that and into a new space where we have robust conversation and together we try to discern the Spirit's leading. We have emerged more encouraged and more hope-filled as people of faith."
In a media conference following the closing Eucharist service, Archbishop Hiltz spoke of several, "historic and holy moments in the life of the church" that took place throughout General Synod. These included the passing of resolutions to: study and further consider the Anglican Covenant; affirm the statement on Human Sexuality; implement a new church wide strategy; repute the doctrine of discovery; provide canonical recognition for the roles of the National Indigenous Anglican Bishop, the Anglican Council of Indigenous Peoples and Sacred Circle; and to affirm the call for greater participation of the church in the work of the Truth and Reconciliation Commission (TRC) of Canada.
"People are taking home these powerful moments," said Archbishop Hiltz. "This Synod was Spirit-led. This was an encouraging time for our church and there has been healing."
Archbishop Hiltz commented that overall he felt General Synod was a great experience for a vast majority of members. He recounted a moment following the closing worship service when a youth member exclaimed to him, "you have just prorogued General Synod!" The youth member continued, "I was hoping you were going to present a resolution to conclude General Synod. And I would have voted against it."
Over 350 delegates and special guests came from coast to coast to coast across Canada for this nine-day event, which takes place each triennium. Details and highlights are available online at www.anglican.ca.
---
Interested in keeping up-to-date on news, opinion, events and resources from the Anglican Church of Canada? Sign up for our email alerts .