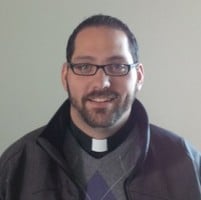 The Rev. Dr. Scott Sharman (B.Th., M.Rel., Ph.D) will begin new work with General Synod as Animator for Ecumenical and Interfaith Relations. Working closely with the Primate's Office, and as part of the Faith, Worship and Ministry Team, Dr. Sharman will work out of Edmonton. He is a priest in the Diocese of Edmonton who understands the heart of his vocation as "that of a bridge builder across division and difference".
The Rev. Dr. Sharman completed his graduate and doctoral studies through Wycliffe College and the University of St. Michael's College at the Toronto School of Theology, where he specialized in theologies of Church as they relate to ecumenical and interfaith dialogue.
For the past five years, Scott has served as Interfaith Chaplain to the University of Alberta, and Ecumenical Officer in the Diocese of Edmonton. This has led him into active involvement in a wide variety of ecumenical and interfaith initiatives and organizations. He is also a member of the faculty at Newman Theological College in Edmonton, where he teaches in the areas of Church History and Anglican Studies.
As someone who has ecumenical and interfaith expertise and experience in the academic, activist, local, and national contexts, he hopes this position as Animator of Ecumenical and Interfaith Relations will enable him "to serve as a coordinating link between what is happening at the grassroots in these areas across the country with the priorities and plans of the Anglican Church of Canada at the national and international levels".
Dr. Sharman will take up his new role on September 1, 2017.
---
Interested in keeping up-to-date on news, opinion, events and resources from the Anglican Church of Canada? Sign up for our email alerts .