Modernizing its infrastructure through a recent grant, Canterbury College in Windsor is moving to solidify an ongoing academic partnership with Huron University College.
In November, the Anglican Foundation of Canada approved a $6,000 grant for Canterbury's partnership with Huron, an affiliated college at the University of Western Ontario. The grant will help enable theology courses by providing funds for e-commerce and administration.
The bulk of the money will go toward e-commerce software that will allow students to register and pay for courses online, as well as an information technology specialist to set up the program.
"Right now, if I want to send marks into Huron, I can write it out by hand in an email and send it," said the Rev. Gordon Maitland, director of education at Canterbury College. "But that's not very efficient, and not the best security either in terms of encryption or that kind of thing.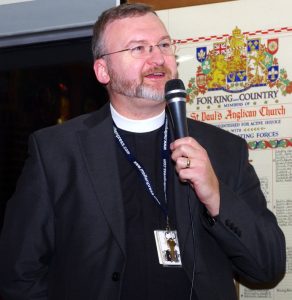 "The e-commerce," he added, "allows us to do things with encryption, tracking of marks and students, and to be able to communicate that information to Huron in a timely and efficient manner."
The transition will bring the registration and payment system at Canterbury, an Anglican affiliate of the University of Windsor, in line with the existing system at Huron.
"It just makes the whole process of these courses happen much more efficiently," Anglican Foundation executive director Judy Rois said.
"It's not the courses themselves; it's making the infrastructure to make it happen, which I think the foundation was quite happy to support because…they really affirmed the partnership between Canterbury and Huron."
The current alliance between the two colleges, which began in late spring 2014, follows previous ecumenical partnerships between Canterbury and the Roman Catholic and United Church colleges at the University of Windsor.
When those two colleges stopped offering education programs, Canterbury began searching for a new partner. As the nearest Anglican college—one whose dean of theology, the Rev. Canon Todd Townshend, was a personal friend of Maitland—Huron seemed like a natural fit.
By linking up with the central theological school in the Diocese of Huron, Canterbury gained a higher profile and the chance to offer courses at a distance to people near the Windsor area who would otherwise have to travel to London for their studies. For its part, Huron gained access to a wider pool of potential students.
As part of the current arrangement, Canterbury acts as a satellite campus for the licentiate in theology program at Huron. It offered its first licentiate course last fall.
Canterbury officials hope the licentiate program will prove to be only the beginning of their partnership with Huron. Recent discussions have floated the possibility of offering undergraduate courses in theology that would count toward a bachelor's degree, since the University of Windsor does not have a religious studies department.
"That really is the gold standard we're aiming for…Our hope is that through Huron, we'll be able to in a sense set up our own…religious studies department here, to offer undergraduate courses in theology and religious topics," Maitland said.
"That would be both a benefit for the undergraduates here at the University of Windsor and…ultimately a money-maker for us in offering a service that isn't available here now. So this is just the tip to get us towards that long-term goal."
---
Interested in keeping up-to-date on news, opinion, events and resources from the Anglican Church of Canada? Sign up for our email alerts .