"Whimsical" may not be the first word that comes to mind when one thinks of the Anglican Foundation, the Anglican Church of Canada's 54-year-old community foundation. But whimsy is the motivating force behind the foundation's first children's book, The Happy Adventures of Hope Bear.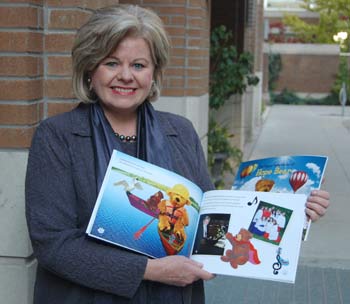 The 32-page, full-colour book, published by ABC Publishing (Anglican Book Centre) tells the story of a teddy bear named Hope who flies across the country with his friend Row-bear to visit projects supported by the Anglican Foundation.
His stops include a community farm in B.C., Wycliffe College in Toronto, and a kids' choir camp in New Brunswick. Each project is depicted in collage style, with a mix of project photos, original paintings, and other illustrations.
"The Anglican Foundation has had a very solid but quiet past," said the Rev. Canon Dr. Judy Rois, executive director of the Anglican Foundation, "This book engages people at a different level. It's about enlarging the foundation and including people, whether it's children or adults who still engage their inner child."
Proceeds from the book go to the Kids Helping Kids Trust Fund, which will support children in churches across Canada. Funds may be used to support building work—such as washrooms and wheelchair ramps—or ministry projects, including church school material.
Ms. Rois said The Happy Adventures of Hope Bear could be used to educate children in church school about the wider life of Canadian Anglicans. It may also make a good gift from grandparents or parents.
Book shows foundation's new direction
When she started as executive director in January 2011, Ms. Rois made a point of thinking imaginatively about the foundation's work. While learning about the foundation, she soon found herself doodling about a trip that an imaginary animal—at that point a lamb—might take to visit foundation projects across Canada.
She realized she had hatched an idea for a children's book. Ms. Rois, a voracious reader, then spent hours researching in the kids' section of bookstores, observing typefaces, tone, and illustrations. She came up with the character of Hope Bear, a cuddly teddy that children could share their stories with.
Then Ms. Rois engaged some creative minds. Artist Carol Knowlton-Dority began work on the paintings and Jane Thornton, General Synod's production and promotion coordinator, led the book design. Janet Thomas, ABC Publishing coordinator, helped add extra whimsy to the text.
This whimsy includes a hidden mouse on every page and photos of Ms. Thomas's own toy animals.
The Happy Adventures of Hope Bear is one example of the Anglican Foundation's new direction under Ms. Rois. Already she has rebranded the foundation and set up a new website with more interactive elements.
"A lot of people's work in life is legitimately serious, but sometimes I think we make it all a bit too serious," said Ms. Rois. "I think when you enter into a book like this you enter into a different sort of mindset, a different perspective, that life can be really quite delightful and adventuresome and fun."
---
Interested in keeping up-to-date on news, opinion, events and resources from the Anglican Church of Canada? Sign up for our email alerts .