This is an Easter message from the Primate of the Anglican Church of Canada.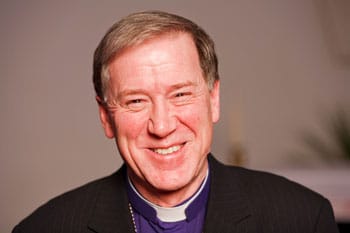 "I have seen the Lord!"
That's the incredible breaking news that Mary Magdalene has for the disciples!  Her encounter with Jesus in all his Resurrection glory is overwhelmingly joyful.  But Jesus says the joy they share must be shared with all the disciples.
From the garden Mary runs through the streets, tears up a set of steps a couple at a time and pounds on the door of a house where they are staying.  Panting for breath she blurts out the news, "I have seen the Lord!"  He is Risen!  I saw Him!  He spoke to me!  I held him!  He sent me to tell you! He is Risen!"
This is Mary of Magdala, Apostle to the Apostles.  All these centuries later, she still leaps up high and leads the whole Church in the Dance of the Resurrection.  With her and all who have borne a faithful witness to the Resurrection, we believe in the Living Lord.  He reveals his holy presence in bread and wine.  He draws near and walks with us through ordinary days and extraordinary, through times of joy and times of grief.  Into our hearts he speaks a word of peace and into the soul of the Church a word of grace.  Calling us to be His Body in the world, he breathes his Spirit into all our ministries, keeping them fresh and focussed for the times in which we live.
Thankful for all our blessings in Christ, may our witness to his Resurrection be marked by the joy and passion of Mary Magdalene!  May these Great Fifty Days be wonderfully glad!  And through our liturgy and our living, our song and our service, may the world know that we truly are an Easter People!
"Alleluia!  Christ is Risen,
The Lord is Risen indeed.  Alleluia!"
---
Interested in keeping up-to-date on news, opinion, events and resources from the Anglican Church of Canada? Sign up for our email alerts .