It maybe looked like a normal summer baseball game on Halifax's grassy commons: people lobbing the ball and laughing, with a barbeque going on the side. But for those attending Justice Camp 2009, it was a holy moment, as they played alongside low-income people for an afternoon of fun.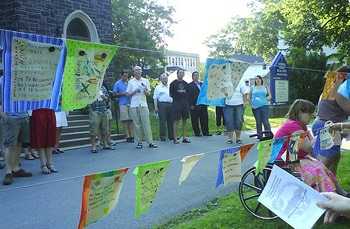 "It became the metaphor for what we learned," said the Rev. Maylanne Maybee, General Synod's ecojustice coordinator, who attended. "It became a level playing field, where there was no donor and recipient; there was no rich and poor. We were just people playing ball and eating hotdogs."
This was one of many moments of "Finding Abundance," the theme of Justice Camp, a week of hands-on learning about poverty held Aug. 9 to 15 in the Diocese of Nova Scotia and Prince Edward Island. More than 60 participants—Anglicans and otherwise, old and young, from around and afar—gathered in Halifax, then small immersion groups spread out across the diocese to explore issues including urban poverty, cultural poverty, and disabled and marginalized groups.
"Nova Scotia and Prince Edward Island are have-not provinces, yet the richness of their sense of community, sense of place, sense of history and care for others—that really came through," said Ms. Maybee.
She said this Justice Camp offered insights about "friendship" as a third way of walking with the poor, beyond giving charity or fighting for justice.
Justice Camps are an initiative of the Anglican Church of Canada's Partners in Mission and Ecojustice Committee, but the camp was organized by a dynamic—and decentralized—local coalition, led by co-chairs Katie Puxley and Andy Sherin, who often set up meetings on Skype. Ms. Maybee said communications vehicles at this Justice Camp offered a "huge breakthrough" and noted that several campers blogged, including Murray MacAdam, the Diocese of Toronto's social justice and advocacy consultant.
The 2009 camp also welcomed an international visitor for the first time: the Rev. Francisco da Silva from the Episcopal Church of Brazil, who offered insights on poverty from his own context.
The Justice Camp momentum continues. Previous camps included Environment Justice Camp (Victoria, 2007); Advocacy Justice Camp (Ottawa, 2006); and Food Justice Camp (Winnipeg, 2005). The Diocese of Niagara hosts next, addressing "Live the change you want to see," from May 9 to 14, 2010. For more information, contact Christyn Perkons, camp project manager by phone at (905) 527-1316 ext. 460 or email.
---
Interested in keeping up-to-date on news, opinion, events and resources from the Anglican Church of Canada? Sign up for our email alerts .