Little Nolan Schick may have what it takes to be a future Anglican leader. At 10-and-a-half months, he already owns four Bibles and is popular in his parish, with his charming new ability to wave "hello" and "bye bye." It is Nolan who poses as a baby bishop on posters and web banners advertising Vision 2019, a church-wide exercise to discern the future of the Anglican Church of Canada.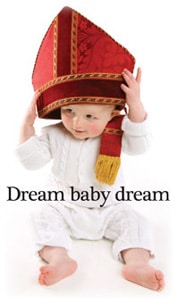 Other Vision 2019 ads feature Katrina Angelica Makalintal, almost two, who warmed slowly to the camera. When she tried on a bishop's mitre at the photo shoot, she pressed her hands together in prayer. (Watch footage of the photo shoot here.)
The Vision 2019 team is hoping that these cute kids will get people thinking about the future. The project asks all Canadian Anglicans "Where is your church now and where do you want the Anglican Church of Canada to be by 2019?" Responses can be sent in by email, voice message, post, or video anytime before October 1.
So where will the Anglican Church of Canada be by 2019, when Nolan is 11 and Katrina is 12?
Nolan's mother, the Rev. Jennifer Schick, has some thoughts: "I really hope that he'll grow up within the church," she said. "I hope we'll have a church culture that really engages children and youth so that they have an understanding of what their faith is about, so that even at a young age they can vocalize what it means to be a member of the church."
Ms. Schick was ordained a deacon in the Diocese of Toronto earlier this month. She said she grew up with great children's programming, including an after-school "Apostles' Club" that grounded her faith. She has been taking Nolan to church—at St. Augustine of Canterbury, Toronto—since he was one week old.
Children's ministries, tradition, inclusiveness-many Canadian Anglicans have already shared their priorities in big and small ways on the Vision 2019 website. Check out the diverse responses and download resources (including posters, idea sheets, and mission studies) to get your parish involved.
Vision 2019 is unlike anything the church has ever tried before. This project throws the doors wide open for many voices to contribute in many media. All of these voices will be heard and analyzed by the Vision 2019 team and a professional analyst, then results will be shared at General Synod in 2010.
Right now baby Nolan may just be interested in eating fruit and scooting around on his bottom, but in 10 years he will be forming his own opinions. What kind of church will he see in 2019? What do you think it should be like? Share your thoughts now.
---
Interested in keeping up-to-date on news, opinion, events and resources from the Anglican Church of Canada? Sign up for our email alerts .