The newly appointed Senior Development Officer for the Anglican Church of Canada, Canon Geoffrey Jackson, sees stewardship education as the "foundation for all we do in ministry and mission of the church."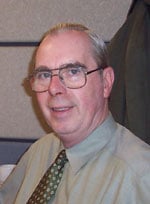 "Stewardship is about finding the resources and tools with which to do the work that God calls us to do," said Canon Jackson, who was hired to undertake the lead responsibility for the implementation of Letting Down the Nets (LDTN), a long-term stewardship and gift planning initiative for the church.
Letting Down the Nets, is a funding plan approved by General Synod in June 2004 to provide resources and tools to enable parishes, dioceses and the national church to realize their shared vision for growth in mission and ministry across Canada as envisioned in the new framework document, Serving God's World, Strengthening the Church: A Framework for a common journey in Christ.
The Framework calls on the church to undertake several new initiatives such as, ministering to youth and young adults, leadership development, and working together in a new spirit of partnership and shared resources, among others.
Canon Jackson is not entirely new to the church. For the last 11 years, he worked as the executive officer for the diocese of Ontario; he is also a member of the Financial Management and Development (FMD) Committee and is the current chair of the FMD sub-committee.
However, he sees his biggest challenge in "presenting the vision of the church to potential donors and providing the necessary financial resources to carry out that vision."
LDTN will be focusing on four major initiatives along with a plan for funding for each of them. The initiatives are stewardship education, proportional gifts to general synod, annual appeals and planned giving and major gifts.
A budget of $3.2 million is required to carry out the four initiatives, said Canon Jackson. About $500,000 has now been pledged and committed by dioceses and individuals towards implementation of the plan.
A fundraising study and audit plan has been set in motion to conduct research and establish a strategy for co-ordinating future fundraising efforts at both the national and local levels. It is being conducted by Lorna Somers, a fundraising consultant, and is expected to be completed by September 2005.
Also being established are diocesan-based pilot projects for stewardship education and financial development. The pilot projects will be conducted in four dioceses over a three-year period, said Canon Jackson. "We expect to start full implementation of the projects by the end of this year."
For LDTN to function, it requires the support from everyone, "because it is the initiative of the whole church," said Canon Jackson.
For further information please contact:
Canon Geoffrey Jackson
Tel:(416) 924-9199 ext.375
E-mail:[email protected]
---
Interested in keeping up-to-date on news, opinion, events and resources from the Anglican Church of Canada? Sign up for our email alerts .