On July 29, members of the Anglican Church of Canada led the morning Eucharist for the Lambeth Conference, the gathering of all Anglican bishops in Canterbury, England. Throughout the conference, which runs from July 16 to Aug. 3, different regions have taken turns leading the 7:15 a.m. communion service. Take a look at these online photos to see members of the Canadian church who participated.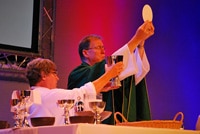 Most of Canada's bishops and their spouses are attending this once-a-decade conference. The Primate Archbishop Fred Hiltz, and National Indigenous Anglican Bishop Mark MacDonald are attending, as well as the Ven. Paul Feheley, principal secretary to the Primate, who is working in external communications. Two members of General Synod's Faith, Worship, and Ministry department are providing organizational support: the Rev. Canon Alyson Barnett-Cowan, director of Faith, Worship, and Ministry, and Dr. Eileen Scully, coordinator for ministry and worship. Beth Baskin, public engagement coordinator, also represented the Primate's World Relief and Development Fund for part of the conference.
Several Canadian bishops are keeping up colourful blogs while at the conference. To read these and find out more information on the event, visit General Synod's Lambeth hub.
---
Interested in keeping up-to-date on news, opinion, events and resources from the Anglican Church of Canada? Sign up for our email alerts .