The following is the second instalment of a two-part article on locally trained ministry within the Anglican Church of Canada. Read Part 1.
Different models for locally trained ministry apply in different dioceses and communities of the Anglican Church of Canada. In general, local training involves a regionally-based program that candidates for ministry can participate in on a part-time basis over an extended period of time.
As opposed to seminary training, regionally provided ministry schools will often have intensive courses that meet for a certain period, such as one week, each season. Candidates for local training feel a deep commitment to carry out ministry, but one that typically must be balanced with other responsibilities.
"People who tend to become locally trained priests are commonly people who had a sense of being called to priestly ministry—but who aren't going to leave their day jobs or whatever aspect of their lives in order to take this on as a paid career, or lifelong full-time commitment," Archdeacon William Harrison said.
"Instead, there's a sense that these are people for whom that's a ministry to which they're called and a contribution that they can make to the life of their parishes."
Before taking on his current position as director of mission and ministry for the Diocese of Huron, Archdeacon Harrison served as ministry development officer for the Diocese of Kootenay, a largely rural diocese that developed local clergy to work in non-stipendiary support positions—still its primary use for locally trained clergy.
"What we've seen there [in Kootenay] is a real push to sustain and grow the church in areas where it would be impossible to provide paid seminary-trained clergy to offer real week-to-week leadership," he said.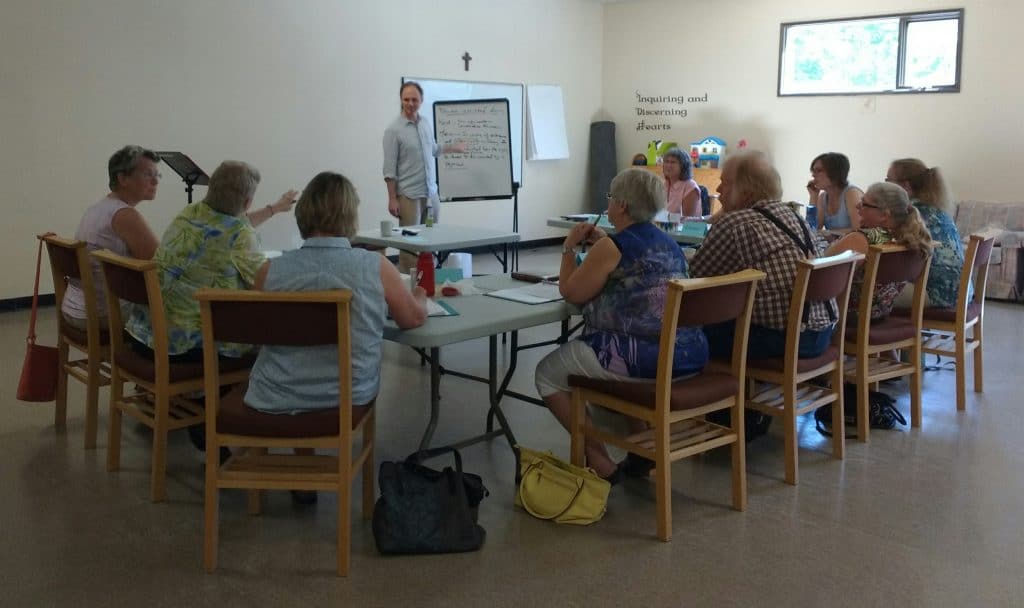 The Kootenay School of Ministry, where Harrison served as principal from 2011 to 2014, evolved out of preparations for locally trained priests and deacons in the diocese. Besides forming priests and deacons, the school also trains licensed lay ministers to take leadership roles in parishes.
In the Territory of the People, locally ordained priests Martina Duncan and Angus Muir attended courses in the Diocese of New Westminster and the Kootenay School of Ministry alongside local and online training. Bishop Barbara Andrews laid out requirements for the candidates to have knowledge in certain areas such as biblical studies, theology, pastoral care, and parish administration.
Once the candidates had met those competencies, the bishop felt prepared to ordain them.
"Because they're locally trained, they're also non-stipendiary, so I put a condition on the parish that they will provide a certain amount of funds for them to continue their studies," Bishop Andrews said.
"It's lifelong learning, which we say for all priests, but most of us go to seminary and then we don't continue studying after that in the same intentional way."
Supporting locally trained ministry
Archdeacon Harrison saw the February consultation in Niagara Falls, Equipping the Saints: A National Gathering on Local Initiatives in Theological Education for Priestly Ministry—which focused on alternative diocesan training as well as seminary training—as an important part of the response by the Anglican Church of Canada to the increased role of locally trained ministry.
He believed the future of locally trained ministry would be an ongoing discussion with the Committee for Faith, Worship, and Ministry and the national church.
"My sense is that in many ways, the most important facilitating role that the church national can play is by enabling all of the kinds of preparation for ordination to continue in a conversation and in mutual support," he said.
National Indigenous Anglican Bishop Mark MacDonald suggested that the Anglican Church of Canada might support locally trained ministry by recognizing the growing number of clergy in this condition, and adopting measures to reflect the unique conditions under which they carry out their (generally non-paid) ministry.
Such measures might include supplementing their work by providing resources for ongoing training, providing subsidies for the elderly who do not have pensions, or enabling them to take some much-needed vacation.
"Very few of them get time off," Bishop MacDonald said. "If the church started a program to allow clergy to cover for these clergy while they went off and had some time off, that would be a great help … There are a lot of ways in which the church could help out to support locally raised, locally trained clergy in the very challenging circumstances that they do their work."
---
Interested in keeping up-to-date on news, opinion, events and resources from the Anglican Church of Canada? Sign up for our email alerts .