From Aug. 23 to the 30th, the Hong Kong Anglican Church will host an informal meeting of 40 chief administrators from provinces of the worldwide Anglican Communion. The general secretaries represent different provinces, or member churches, of the Anglican Communion, with Archdeacon Michael Pollesel representing the Anglican Church of Canada.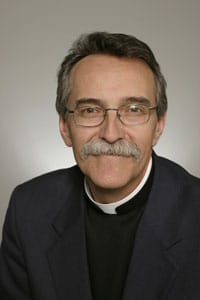 "The aim is to bring together as many provincial secretaries from around the world as possible," said Archdeacon Pollesel. Much like the recent consultation in El Escorial, Spain, this event focuses on fortifying cross-communion conversations. Archdeacon Pollesel said the purpose is "to get to know one another, to get to know their respective churches, where they work, to talk about the differences and the similarities."
General secretaries wear different hats in different provinces. Some are lay people, others are bishops, and their election processes and authority differ. In Canada, Archdeacon Pollesel is the chief operating officer of General Synod (the church's national office), where he supervises day-to-day operations, shares the church's work with Canadians, and manages the a staff of about 100.
The conference will cover broad issues affecting all general secretaries, like relationships with primates, interacting with secular authorities and the 2008 Lambeth conference. The secretaries will also give updates on their provinces and learn about the work in Hong Kong. "I'm hoping that we spend some time on the millennium development goals," said Archdeacon Pollesel, "Because I think something like that is a way of bringing the communion together with some really identifiable mission objectives."
This is the sixth provincial secretaries conference, organized every three years by the Anglican Communion Office. Previous hosts include Johannesburg in 2004 and Toronto in 2000.
---
Interested in keeping up-to-date on news, opinion, events and resources from the Anglican Church of Canada? Sign up for our email alerts .