In a series of decisions at its May meeting, the Board of Directors of The Primate's World Relief and Development Fund (PWRDF) announced the receipt of $600,000 in gifts for HIV and AIDS work and allocated $350,000 in undesignated donations to Partnership for Life: For a Generation without AIDS. Added to the original $1 million fund to initiate the work, the May allocations raise the total funding to $1,950,000.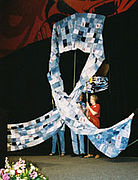 "PWRDF celebrates the distinct ways in which donors give to Partnership for Life. We celebrate the planned giving of individuals who contributed funds through their estates ($1 million); the hard earned funds that were contributed by individuals and groups through fundraising and free will offerings for Partnership for Life ($600,000); and the generosity of our core donors who have contributed so generously that extra revenue ($350,000) that has been generated and can be allocated by the board to this important work," said Beth Baskin, PWRDF Public Engagement Coordinator.
PWRDF partners have been addressing the devastating impact of HIV and AIDS for years through a series of community-­led health promotion programs that are responsive to cultural sensitivities and real life situations.
The three-­year fundraising campaign allowed Canadian Anglicans to explore the HIV and AIDS issue and deepen their response to 2004 General Synod resolutions to support international partners in the struggle against stigmatization of AIDS. A working group within Church House is working creatively towards Anglican and ecumenical involvement in the upcoming XVI International AIDS Conference in August 2006.
Partnership for Life funding primarily allowed PWRDF regional desks to support global partners in their new and ongoing HIV and AIDS work. The Partnership for Life website (partnershipforlife.ca) offers ongoing educational and worship resources, links, and analysis for the Anglican and broader communities of faith.
---
Interested in keeping up-to-date on news, opinion, events and resources from the Anglican Church of Canada? Sign up for our email alerts .