General Synod Communications announces the publication of The Journey Continues III which updates diocesan responses to the residential schools Settlement Fund and provides useful tips for dioceses and parishes to use to keep their momentum going.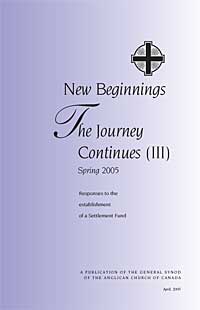 The Journey Continues III uses a case study approach to look at how Canadian dioceses are endeavouring to meet their commitments to the Settlement Fund.
The fund was created in 2003 after the Anglican Church of Canada signed an agreement with the federal government that limited the church's liability to lawsuits launched by former students at residential schools who claim they were physically or sexually abused. The agreement required the General Synod of the church and all of the 30 dioceses to contribute $25,000,000 to the fund over five years.
The Journey Continues III – the third booklet in the series – looks at how the dioceses of New Westminster, Rupert's Land and Niagara have worked to meet this commitment.
The booklet also contains a segment entitled How to raise money for the Settlement Fund – that describes different strategies that parishes and diocese can use to meet their commitments.
The Journey Continues III is available as a download on the web. Printed copies can be ordered from Josie De Lucia, Communications and Information Resources, 80 Hayden Street, Toronto ON, M4Y 3G2, 416 924 9199 ext. 294; [email protected]
Links:
---
Interested in keeping up-to-date on news, opinion, events and resources from the Anglican Church of Canada? Sign up for our email alerts .