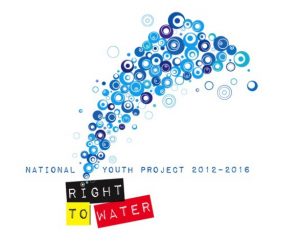 Anglican and Lutheran youth across Canada have the opportunity to bring water to homes in a remote, northern fly-in community as part of the ongoing National Youth Project (NYP).
A joint effort between the Anglican Church of Canada and the Evangelical Lutheran Church in Canada that works through the Primate's World Relief and Development Fund (PWRDF) and its youth program, justgeneration.ca, the NYP seeks to help youth channel their energy toward a particular issue over a multi-year period.
For their current theme, Right to Water—which serves as the focus of the NYP from 2012 to 2016—youth are seeking to raise $20,000 to provide clean drinking water and sanitation facilities for a home in Pikangikum, Ont.
The youth contribution is part of a larger PWRDF project to provide water to 10 homes in Pikangikum, a community plagued by issues related to poverty, housing, water, food security and the world's highest known suicide rate per capita.
Increasing awareness is one of the chief goals of the program, justgeneration.ca facilitator Sheilagh McGlynn said.
"There's a lot of awareness raised around issues internationally that people can hop on board with very easily…whereas this is an issue that's in our own backyard," McGlynn said. "We have people living in Canada who don't have access to proper water. That's a problem."
"It's also about our commitment as Anglicans to the reconciliation process…[arising from] the residential schools and the TRC [Truth and Reconciliation Commission]," she added, pointing to the growing presence of indigenous Anglican bishops and the recognition of the need to build relationships and translate faith into action.
"The five Marks of Mission call us to be active in our faith, not just to attend churches on Sundays," McGlynn said. "So this is one way that young people can be active in their faith."
Participants in the Right to Water project have taken a two-pronged approach that combines fundraising with education, exploring the significance of water and the history of indigenous peoples in Canada.
The project relies on initiative and self-directed activity from diocesan youth, who develop their own methods of education and fundraising, which might include anything from slide presentations to bake sales.
The NYP has long been a mainstay among Lutheran youth, but the participation of young Anglicans is more recent, with the program now taking place during off-years between Canadian Lutheran Anglican Youth Gatherings.
While youth in many Anglican dioceses have already gotten involved—with some seeking to raise thousands of dollars for the project—the potential for further growth remains vast.
National Indigenous Anglican Bishop Mark MacDonald, who initially directed the attention of the PWRDF to the project in Pikangikum, praised the efforts of the NYP.
"The National Youth Project is so very hopeful and encouraging," MacDonald wrote in an email. "The young people have shown a level of impatience with this kind of lack in a country where some enjoy such great abundance; the Indigenous Peoples of Canada are a very youthful group."
He added, "This involvement promises future solidarity and community between the various peoples of Canada…This project is hopeful in that we are seeing the young people take constructive action towards a more livable future for us all."
Information and resources to help youth get involved in the Right to Water project are available at https://pwrdf.org/category/national-youth-project/
---
Interested in keeping up-to-date on news, opinion, events and resources from the Anglican Church of Canada? Sign up for our email alerts .