Six young actors. A play about faith. A cross-Canada tour. It's a crazy dream that Ask & Imagine, the Anglican-Lutheran leadership development program, will be bringing to life in May.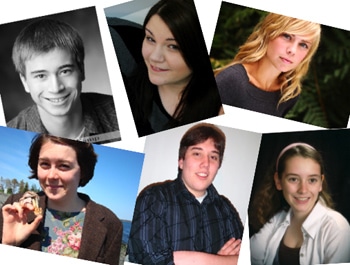 Magdalena Jennings is going. The Halifax-based university student and five other young adults have been chosen to create, perform, and tour Roots Among the Rocks, a play that will explore how to nurture faith in an ever-changing world.
"I'm very interested in projects that engage a community to create art together," said Ms. Jennings in a phone interview. In May she and the Roots cast will gather at Huron University College to form their own community and create a play that draws from their experiences of Canadian church life. Roots will premiere June 8 at the Anglican Church of Canada's national meeting, General Synod.
The cast are:
Melissa Glover of Prince George, B.C., a graduate of Mount Royal College's theatre arts performance program who is passionate about "collective creation"—the collaborative writing process thatRoots will use.
Karyn Guenther of Abbotsford, B.C., currently pursuing a BFA in Acting at Trinity Western University and the only performer from a non-Anglican background (Mennonite Brethren)
Magdalena Jennings, a singer and philosophy/German major at the University of King's College, Halifax. She is originally from Vankleek Hill in eastern Ontario.
Carolyn Pugh, a math/computers student at the University of Guelph, active in the Diocese of Niagara youth scene, and head server at her home parish in Guelph, Ont.
John-Daniel Steele of Victoria, B.C., who has served as a youth leader, camp counselor, chorister, and church drama professional.
Michael van der Kamp, a student at the Canadian College of Performing Arts in Victoria, B.C. He grew up in the arts community of St. James and the Refinery in Saskatoon, Sask.
Origins and future
So how did this wild idea emerge? Roots was born at Ask & Imagine, the 10-day leadership development program for Anglican and Lutheran young people and leaders that runs twice a year in London, Ont. 2009 marks the 10th anniversary of Ask & Imagine, and the organizers arranged this theatre tour as their first alumni project.
Jenny Salisbury, a Toronto director, playwright, and Anglican youth minister was a driving force behind Roots. She and Lutheran co-director Peter Reinhardt of Vancouver will help organize and take this show on the road. All costs are covered, as well as modest salaries, thanks to funding from Ask & Imagine, Huron University College, Westminster College Foundation, and other organizations.
While in London, the Roots cast will participate in part of Ask & Imagine, where they will learn about church history, theology, ethics, and more.  They will fly to Halifax for the launch, then will take a combination of planes, ferries and vans to several Canadian cities including St. John's, Hamilton, Winnipeg, Saskatoon, Calgary, and Vancouver.
Ms. Jennings is already wondering how the play will affect the mainly Anglican audiences along the way: "We're all from different parts of the country, and that's helpful, but how we can accomplish a sense of community among all the people that we'll be performing for across Canada?"
Ms. Salisbury is also musing on the eve of their kick-off: "Maybe it's just Easter and it's in the air," she mused, "But there's this sensation of rebirth, future, and looking forward, which I hadn't felt in the church for a while. Just in the last month, every conversation I seem to be having is about reimagining, dreaming, waking up, and hope. So I hope that's what Roots Among the Rocks captures."
For more information and to follow the adventure, visit the Roots Among the Rocks blog.
---
Interested in keeping up-to-date on news, opinion, events and resources from the Anglican Church of Canada? Sign up for our email alerts .