Bishop Henry Hill was a man passionate about dialogue between Anglican and Orthodox churches. So passionate, in fact, that the former Diocese of Ontario bishop not only served as the Archbishop of Canterbury's representative in related dialogues, but in 1991 he set up the St. Basil Scholarship so scholars from Canadian Anglican and Oriental Orthodox churches could travel overseas to learn more about each other's faith.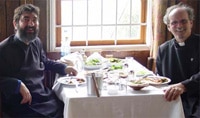 Bishop Hill passed away in October 2006, and recently, through donations from his estate and from others, the funds in the scholarship have increased significantly. Now the Anglican Foundation, which administers the St. Basil scholarship, is seeking applications from scholars and clergy who are interested in a study visit of about six months.
Seven St. Basil scholarships have been awarded since 1991: four to members of Oriental Orthodox churches and three to Canadian Anglicans. The Anglican Foundation aims to fund one St. Basil scholar per year.
The most recent scholar was Rev. Wally Raymond, former Dean of the Diocese of Quebec, who lived, taught and worshipped with the Armenian Orthodox Church in Lebanon and Jerusalem for four months in 2006. During his stay, Rev. Raymond kept up a colourful blog, where he reflected, "this sabbatical leave for me has been one of rediscovery, focusing anew on that essence of faith that so encourages and sustains us."
The scholarship is named after St. Basil the Great of the fourth century. Known for his teaching and work for the poor, St. Basil is revered in Anglican churches as well as in Oriental Orthodox churches.
Members of the following churches are eligible to be St. Basil scholars: the Anglican Church of Canada, the Armenian Apostolic Church (in Armenia and Lebanon), the Coptic Orthodox Church of Egypt, the Ethiopian Orthodox Church, the Eritrean Orthodox Church, the Syriac Orthodox Church of Syria and India, the Malankara Orthodox Syrian Church (in India), the Holy Apostolic Catholic Assyrian Church of the East.
If you're interested in applying, contact the Anglican Foundation by email, or call (416) 924-9199 ext. 234.
---
Interested in keeping up-to-date on news, opinion, events and resources from the Anglican Church of Canada? Sign up for our email alerts .