The last thing you want to do when you're giving birth is walk 20 kilometres. But for years, that's what the women of Kitele, Mozambique, did: when the contractions started, they started walking along the hot, dirt road, to the medical clinic. Some women died on the way. Babies too.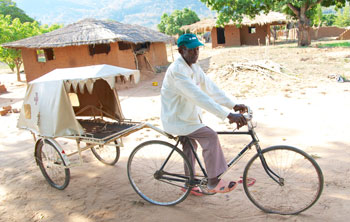 Now, women in labour get to the clinic by the faster, safer method of bicycle ambulance. They only cost $600 and you can help provide more rides by donating through the Anglican Church of Canada's gift guide.
Bicycle ambulances are a little bit of genius. They are essentially stretchers on wheels that hitch to the back of regular bikes. There's also a little canopy to keep out the sun.
The Primate's World Relief and Development Fund (PWRDF) is setting up 100 of these bicycle ambulance programs through local partners—mostly in Mozambique. They started the program several years ago with 30 bikes and now have more than tripled their project size. It's been that successful.
"The bicycle ambulances are a fantastic program that is helping communities come together," said Simon Chambers, PWRDF's communications coordinator. "It provides employment and it's able to save lives."
A bike's long life
In mid-November, Mr. Chambers went to go see one of these bike ambulances first-hand in Mozambique. After bumping along for hours on the rough dirt roads he finally arrived in Kitele, only to hear that the five-year-old bicycle ambulance was worn out. A man wheeled out a rusted bike with no pedals. Mr. Chambers wondered, Is this a failure?
But no—the bike had lived a long and full life. A total of 98 people had travelled in it: 50 or so pregnant mothers, 25 or so people with malaria, and others with various illnesses and injuries. In total, the bike had covered about 5,000 kilometres.
And the ambulance really wasn't dead. The ingenious community kept the trailer so it could be hitched to anyone else's bike. The ambulance lived on!
It takes a village to care for a bicycle ambulance. Community members pay the equivalent of 20 Canadian cents per month to maintain the machinery. Someone acts as treasurer and they hire a rider if they can afford it.
The bikes are just one aspect of a larger plan to improve child and maternal health. PWRDF has built local mothers-in-waiting houses for women to rest before delivery. They also train community health workers who provide pregnancy care and care related to HIV/AIDS: testing, preventing mother-to-child transmission, and dispensing anti-retroviral drugs.
You can visualize this gift
Canadian Anglicans have given generously to the bicycle ambulance project. Mary Donato of Sudbury, Ont., said that she liked that it was "easy to visualize." She and her outreach team at the Church of the Epiphany have given a total of $3,600 to the project—enough for six bicycles. They raised money through book sales, appeals, and individual donations.
"I just really feel that when you give through PWRDF you know that it's being used responsibly," said Ms. Donato, who serves as PWRDF deanery coordinator for Sudbury-Manitoulin.
"PWRDF supports areas of the world where we really need to be concerned as Christians. We're not asking for stuff in return and not just concentrating on the issues of the moment. PWRDF's support is ongoing and based at the grassroots."
---
Interested in keeping up-to-date on news, opinion, events and resources from the Anglican Church of Canada? Sign up for our email alerts .