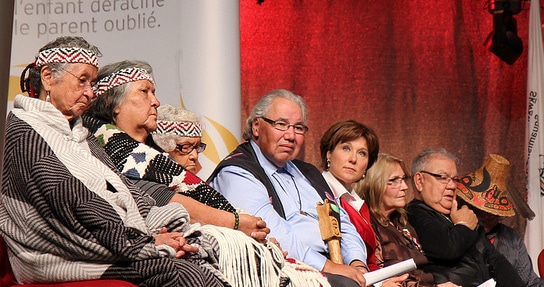 From March 27 to 30, several thousand Indigenous and non-Indigenous people will gather in Edmonton, Alberta for the seventh and final national Truth and Reconciliation Commission event.
The Anglican delegation will include Archbishop Fred Hiltz, Primate of the Anglican Church of Canada, National Indigenous Anglican Bishop Mark MacDonald, the Venerable Michael Thompson, General Secretary, and Archbishop Terry Finlay, Primate's Envoy on Residential Schools.
Bishops, clergy, and parishioners from the dioceses of Edmonton, Athabasca, and Calgary will also be present for TRC events including the lighting of the sacred fire, statement giving by residential school survivors, church listening circles, and a public Anglican expression of reconciliation.
The Anglican expression of reconciliation includes a full-colour historical timeline of evolving relations between Indigenous peoples and the Anglican Church of Canada. The expression is scheduled for Friday, March 28 from 4 to 6pm local time.
A number of ecumenical partners will be present in Edmonton. For the first time, the Evangelical Lutheran Church in Canada and the Canadian Council of Churches will offer expressions of reconciliation. KAIROS: Canadian Ecumenical Justice Initiatives is also coordinating a number of events, including a panel discussion on restoring the dignity of Indigenous women and girls.
Anglicans across Canada are encouraged to support the work of the Truth and Reconciliation Commission throughout the national event. Those unable to participate in person can watch livestreaming at www.trc.ca or follow on social media on Facebook or Twitter and by using the #ABNE and #TRC hashtags. A detailed schedule of events is available here.
---
Interested in keeping up-to-date on news, opinion, events and resources from the Anglican Church of Canada? Sign up for our email alerts .