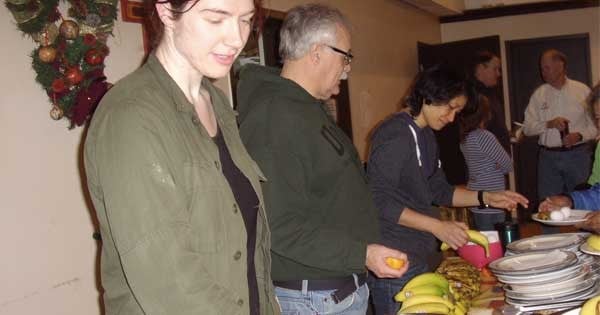 Welcoming visitors with open arms, the Church of Saint Stephen-in-the-Fields in the Diocese of Toronto offered a community breakfast and open drop-in on Christmas Day, along with a traditional holiday Mass service.
While the community breakfast is a longstanding fixture at the church – taking place every Saturday and Sunday and for many years at Christmas – the afternoon drop-in made its debut last year, attracting an estimated 60 people over the course of the afternoon.
Providing coffee, food, music and games along with good company and plenty of holiday cheer, the church drop-in offered a welcoming environment on Christmas Day for all, and for some of the city's most vulnerable in particular.
"This is a pretty high-need area we're in," said the Rev. Maggie Helwig, priest-in-charge at Saint Stephen-in-the-Fields.
"There are a lot of people who are marginalized, homeless, poor…and a lot of people who don't have anywhere to go on Christmas Day. So we thought it would just be nice to have a nice, warm, welcoming friendly space, a place where people could be."
Along with Saint Stephen-in-the-Fields, volunteers from St. John's Anglican Church West Toronto and the Church of St. Aiden help out with the community breakfast. Meanwhile, the afternoon drop-in is run entirely by members of the Saint Stephen-in-the-Fields parish.
In many ways, the spirit behind the church events parallels the message of Christmas itself.
"One of the most important things which the Incarnation says to us is that the human being…is of infinite value to God," Helwig said. "God loves the individual human person enough to come to us in our flesh, in our bodies. So if there are human bodies out there (that are) cold and lonely and hungry, that's an offence against our own faith – what we say we believe."
"The story of the Nativity," she added, "is the story of God coming to us as a refugee baby born to some poor kids in a barn. God coming to us as absolute vulnerability and marginalization – that's where God happens. And so if we say we love God, it is incumbent on us to demonstrate that by caring for people who are vulnerable, who are marginalized, who are left outside."
Christmas Day 2013 saw a huge turnout at Saint-Stephen-in-the-Fields, due in no small part to the effects of that year's ice storm that left many residents without electricity.
The efforts of church volunteers to create a welcoming Christmas space for those who may not have one continued this year. Even as many residents were still nestled snug in their beds on Christmas morning, volunteers were up at the crack of dawn preparing the community breakfast, which ran from 6:30 a.m. to 8 a.m.
Following Mass later that morning, the afternoon drop-in ran from noon until 4 p.m., further building on the success of last year's event.
"The drop-in last year was actually really nice," Helwig noted. "It was a really nice, relaxed, friendly, sort of…domestic feeling – and I think that's really nice for people who don't necessarily have that in their lives."
---
Interested in keeping up-to-date on news, opinion, events and resources from the Anglican Church of Canada? Sign up for our email alerts .