A slam poetry homily. Drumming at worship. An Advent project centred on the right to water.
These are just some of the visible signs of the impact the Canadian Lutheran Anglican Youth (CLAY) gathering has had on the life of the church in the Parish of St. James Manotick, located in the Diocese of Ottawa. Over the last eight years, parish youth have regularly attended the biennial event, a national gathering of young Christians, which this year will be taking place from August 15-19 in Thunder Bay, Ont.
Returning from CLAY to their home parishes, participants bring with them a range of ideas that—in cases such as the Parish of St. James Manotick—have provided a major boost to youth ministry and new approaches to worship.
"CLAY is an incredible experience for our young people. It's a mountaintop experience," said Donna Rourke, coordinator of youth ministries for the parish as well as the diocesan Youth Internship Program.
"Our youth come back exhausted, but pumped—pumped about their faith, pumped that they're in an environment where it's cool to be Christian. … [T]hat doesn't happen to them very often … Because of that, it is easier as a youth leader to incorporate things that youth learned at CLAY into the programs that we develop."
Leslie Giddings, child, youth, and adult learning facilitator for the Diocese of Ottawa, said that Anglican participation in CLAY has increased over the last several years, particularly among members of her own diocese.
"We sent a really large group last time, the largest we've ever sent," Giddings said. "And part of our ability to mobilize people was explaining that actually, CLAY could be used as the foundation for their youth ministry for the next two years, until the next CLAY came along."
Experience of St. James Manotick
Worship is a major area where young parishioners incorporate their experiences from CLAY. Every two years upon returning from the event, the congregation would hold a service where youth could showcase what they had learned.
Examples include incorporating Godly Play into the gospel reading, or performing on drums and bringing new songs into worship. The slam poetry homily was the creation of one talented youth who wrote and performed an original poem, inspired by the similar use of poetry at CLAY.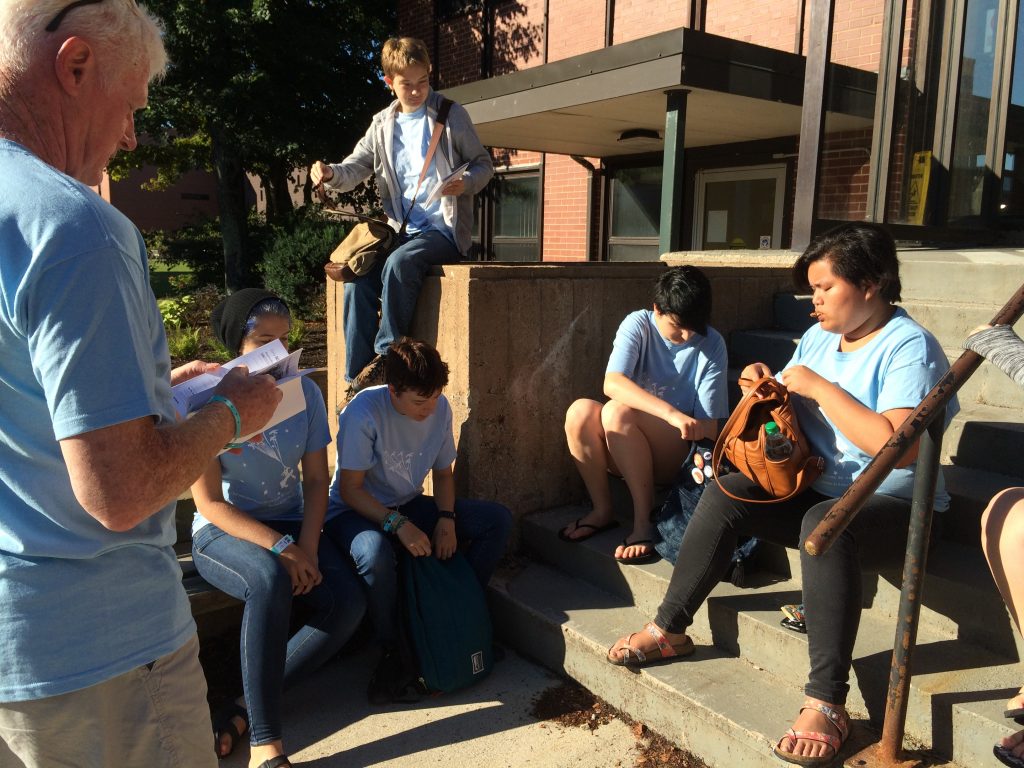 The experience of CLAY has also affected initiatives outside of worship. Over the last four years, youth programming at St. James Manotick has incorporated the theme of Right to Water, the focus of the National Youth Project from 2012-2016 which sought to highlight water rights in Indigenous communities across Canada.
Two years ago, the parish's annual Advent project focused on encouraging youth to be mindful of all the water they used during the Advent season by giving each participant a bag of jellybeans and a jar.
"Each time they used water—to brush their teeth, to go to the washroom, to wash their hands, to have a shower, whatever—they would take a jellybean from the bag and put it in the jar," Rourke said. "And every time they filled up the jar, they went to talk to their folks about donating some money to the National Youth Project."
"We ended up raising like $200 for that," she added. "We would talk about how we use water without even thinking, and [that] we have people still in Canada that don't have water."
To help raise money to attend CLAY, youth also organized fundraisers, such as a car wash during the summer and a pancake supper on Shrove Tuesday. One-quarter of the cost for youth to attend CLAY is subsidized by the parish.
'Something to rally around'
Giddings said that the Diocese of Ottawa decided this year to invest more in increasing its participation in CLAY, rather than organizing diocesan events that could compete for focus and participation.
"It's so valuable to get people together in church to do something, but we have to think about all the ways we can connect to them before they come and connect with them after they're there, because that's where the payoff and the connections and the growth happen," Giddings said.
"Getting people together is important and it's one of our core pieces of Christian community … that fellowship in coming together. But if we don't think about all the ways that could also be a learning opportunity or an opportunity for service, then we're missing the depths of how we can connect."
Sheilagh McGlynn, national youth animator for the Anglican Church of Canada, said she believed that using CLAY as a model for youth ministry had potential to be used in other areas of the country.
"I think it is a great way to answer the question of 'We don't know what to do with our young people,' because I think there are a lot of people out there who care about young people and want to offer something for them," McGlynn said. "They just don't have the skills or the expertise, [or] they don't have any training in youth ministry. […] This offers something to rally around and to have a theme."
Registration is still open for CLAY 2018 in Thunder Bay. The upcoming gathering is based around the theme Threads and will feature the Rev. Steve Greene as its official Storyweaver.
---
Interested in keeping up-to-date on news, opinion, events and resources from the Anglican Church of Canada? Sign up for our email alerts .