A new series of Epiphany devotions showcases the growing cooperation between Anglicans and Lutherans on both sides of the 49th parallel.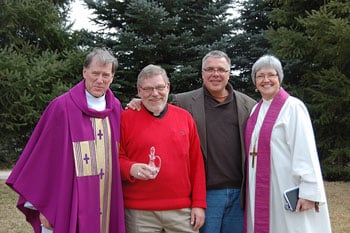 Leaders of the four participating churches—Anglican Church of Canada (ACC), Evangelical Lutheran Church in Canada (ELCIC), The Episcopal Church (TEC), and the Evangelical Lutheran Church in America (ELCA)—have launched the devotions with a pastoral letter, designed to be read in churches on Reign of Christ Sunday, Nov. 25.
Vivid and creative, the devotions feature diverse images—from the foggy fields of the Salinas Valley, California, to a meditation on what it would be like to be a drop of water transformed into wine.
The series of six follows the weeks in Epiphany—from Jan. 6, 2013, Feast of the Epiphany, to Feb. 10, Feast of the Transfiguration of our Lord. The imaginative contributors are members of the Lutheran-Episcopal Coordinating Committee, USA, and the Joint Anglican-Lutheran Commission (JALC), Canada.
"I like that this resource involves so many writers," said the Very Rev. Peter Wall, contributor and Anglican co-chair of JALC. "We've got geography, scholarship, laity, clergy—a lot of different people involved in a way that encompasses all that we're talking about."
Devotions can be used in parish study groups or for personal reflection. They follow the gospels of the season, held in common among all four participating churches.
The ACC and ELCIC have been in full communion since the signing of the Waterloo Declaration in 2001. The churches maintain autonomy but share in joint life and mission, including sharing in Eucharist and using each other's liturgies. A similar agreement, Called to Common Mission, was signed by TEC and ELCA in 2001.
"At a time when there are so many forces in the world that are trying to create further division among people of faith, this developing partnership, with all of its attendant growing pains, is really quite extraordinary," said Bishop Michael Pryse (Eastern Synod), ELCIC co-chair of JALC. "That story needs to be broadcast much more effectively."
The Rev. André Lavergne, assistant to the bishop, ecumenical and interfaith, for the ELCIC, said the relationship has matured a great deal since the Waterloo Declaration.
"Our relationship offers us a richness of response as together we seek to embrace God's mission and move this forward," said Rev. Lavergne. "We are richer offering a joint response than were we simply to go it alone."
A major example of this joint response is the ACC and ELCIC joint national assembly, to be held in Ottawa, July 3 to 7, 2013.
Next month, leaders of the four churches—Bishop Mark Hanson (ELCA), the Most Rev. Fred Hiltz (ACC), the Most Rev. Katharine Jefferts Schori (TEC), and National Bishop Susan Johnson (ELCIC) will hold their annual meeting in Chicago to discuss how to grow together in unity and mission.
---
Interested in keeping up-to-date on news, opinion, events and resources from the Anglican Church of Canada? Sign up for our email alerts .