Submitted by Bishop Michael Ingham (retired)
The Companions of the Diocese of Jerusalem is one of the new global relations programs of the Anglican Church of Canada. It is a way for our church to be in partnership with fellow Anglicans in the land of the Holy One.
Currently, 8 dioceses in Canada are members, along with 36 parishes, 121 individuals, and the Anglican Military Ordinariate. To learn more, go to https://www.anglican.ca/gr/provinces/jerusalem/companions/.
Last November, members of the Advisory Council to the Companions visited some of the 53 institutions of the church in Jerusalem, including a school for the deaf, women's clinics, hospitals, and an orphanage. Led by the Primate, Archbishop Fred Hiltz, this is a report of one day's visit – to the Ahli Arab Hospital in Gaza.
Gaza is the world's largest prison.
Over 2 million people subsist in 365 square kilometres – half the size of the city of Toronto, or one tenth the area of BC's Lower Mainland. It's a cage bounded by the sea on one side and razor-wired gun towers on the other. The underground tunnels to Egypt on the southern border have been blown up.
There is an atmosphere of contained rage. The road into the city takes you through poverty and squalour – abandoned hulks of cars, bullet-riddled buildings, piles of trash. Gaza City is a warren of congested roads and alleyways, surging with people, mostly young. There is a desperate commerce among small businesses selling fabrics and clothing, food, phones, and household items that are increasingly hard to obtain.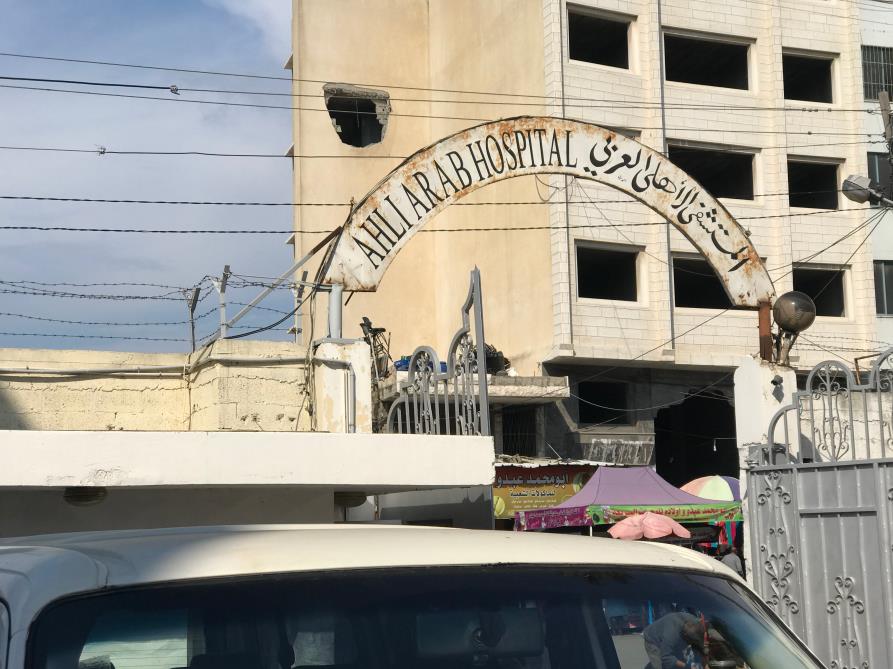 At the centre of it is the Anglican Church's Ahli Arab Hospital. It's not an island of tranquility in the midst of chaos because of the constant noise of traffic and the frequent arrival of casualties. But it is one of the few islands of hope in the area.
"This is the oldest hospital in the Gaza, and the only Christian hospital," explains Ms. Suhaila Tarazi, the executive director of Ahli Arab. "We treat all patients equally no matter what their religious or political affiliation [is]. It is a general hospital with 80 beds, but because of financial deficits we can only operate 50 beds. In cases of emergency we can expand to 100 beds, but this presents us with many challenges."
Cases of emergency are not uncommon. The two intifadas (uprisings) of the last 30 years plunged Ahli Arab into a crisis of medical demand for years at a time. More recently, Friday demonstrations by young Palestinians at the dividing wall with Israel, called the March of Return, have drawn live fire from the Israeli side into crowds of protestors.
Each week the hospital treats gunshot wounds, fractures, and serious life-threatening traumas requiring many stages of treatment and rehabilitation.
Occasionally, the hospital itself has been shelled. Across the street, a hole the size of a truck is blown through the side of a residential building – a near miss that could have been catastrophic. Bullet holes pepper the hospital walls. The chapel in the grounds was once reduced to rubble by a missile through the roof.
Ahli Arab is a break in the hopelessness, or, as one patient described it, "a lung that allows us to breathe." The hospital offers general surgery, orthopedic, ENT, general medicine, gynecology and obstetrics, urology, and neurology. "The situation here is very difficult," says Suhaila. "We provide these services, but when a crisis happens we have to re-define ourselves as a field hospital, with very meagre resources."
The Director of Doctors, Dr. Maher Ayad, has been at Ahli Arab for over 40 years. "We are working here to save this Christian institution," he says. There are over 50 hospitals and clinics of various kinds in the Strip, but they are operated by political factions. Treatment centres run by Hamas, by Islamic Jihad, by Fateh, and other groups, treat their own followers. Only the Christian hospital accepts everyone. "This is our mission, our faith in Jesus Christ," he says.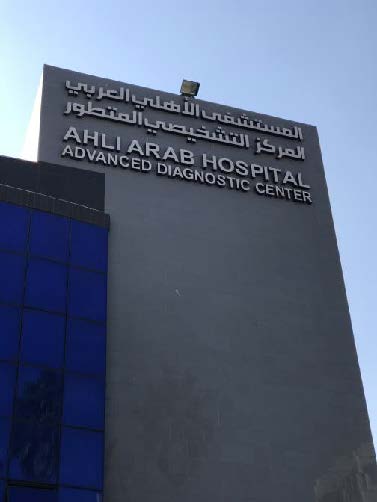 We are taken on a tour of the various departments. Today is 'free medical treatment day.' Patients are normally asked to pay what they can, but one day a week they are not.
A baby only a few hours old is lying in an incubator – exhausted mother and father resting nearby. They are Muslims, but have given the new-born a Christian name, Julia. In the hospital corridors more women wait patiently with their children for treatment. They hurriedly don hijabs and niqabs as we come by, for there are men in our group.
We see an aging mammogram machine, and in the next room a brand new digital one – the gift of an American Episcopal diocese. All over the hospital there are markers acknowledging the support of overseas donors, most of them churches. "We really cannot survive without the help of Christians around the world," says Dr. Maher.
Neither Hamas nor the Palestinian Authority gives any financial support to the hospital, despite its serving an almost entirely Muslim Arab population.
Gaza has a large and growing incidence of cancer, but there are no cancer treatment facilities in the Strip. Serious cases can be referred to hospitals in Israel, but travel permits must be applied for and there are long delays. Most Palestinians cannot afford to support themselves while receiving treatment in Israel. Dr. Maher is seeking help from oncology specialists around the world, but it is difficult. "Many doctors do not want to come here, because it is dangerous," he says.
Cancer creates social problems as well as health problems. Women with breast cancer are unlikely to tell their husbands or families. In Gaza they will be punished or shunned. Cancer is regarded as a hereditary condition and a weakness. A woman who has a mastectomy is often rejected by her husband, who may then take another wife. Many women prefer to die than to be cast out.
Consequently, one of the most important services of Ahli Arab is community education and health care training in outlying neighbourhoods. It is a long slow process to change attitudes in a tightly enforced conservative religious culture.
The need is for everything – doctors who can volunteer for a time, nurses, technicians, equipment to replace aging technology such as x-ray machines, ultrasound, CT and MRI scanners.
The power grid in Gaza runs for only a few hours each day. The hospital relies on a backup generator when the lights go out in the operating room. The generator burns through 60 litres of fuel in an hour. The price of fuel is high, and often is not available.
The Primate asks what Canadian Anglicans can do to help. Suhaila asks for our prayers. She also has a list of urgent needs, and she is not shy to ask. Some require major foundation-level funding. But she mentions the need for two new operating tables with overhead lights. The cost would be in the range of US$70K.
"You can expect a generous gift from Canada," says the Primate, as we prepare to go back to the place Suhaila herself rarely sees. We pray together, and then we leave.
On the journey back up to Jerusalem, passing the checkpoints and gun towers that allow visitors (but not residents) to enter and leave, we reflect on our conflicting emotions. We have seen the modern day saints of God, ministering selflessly to people of another faith because it is their duty as Christians.
And we have no answer to the despair and futility of millions of people trapped in a dehumanizing prison, feeling abandoned by the world.
---
Interested in keeping up-to-date on news, opinion, events and resources from the Anglican Church of Canada? Sign up for our email alerts .