In sharing their ideas and experiences, youth ministry leaders from across Canada are able to create a shared vision—a broad outlook that allows them to return to their communities and make their ministry more contextual, and more effective.
Professional development is a major focus of "Stronger Together," a grassroots initiative started five years ago by diocesan youth ministry leaders. They began the annual gathering as a means of networking, training, supporting their own work, finding resources and developing collaborative projects.
An ecumenical event, Stronger Together is now a joint collaboration between the Anglican Church of Canada and the Evangelical Lutheran Church of Canada (ELCIC), offering 30-40 youth leaders each year from both churches a chance to share ideas.
Coordinator Judy Steers noted that adult leaders in youth ministry are often isolated in their work. The opportunity to meet colleagues at events such as Stronger Together often has a sustaining effect, enabling them to talk about relevant and ever-changing issues affecting youth ministry and youth in society.
"I think [Stronger Together] has a huge impact on the effectiveness of youth ministry across the wider church," Steers said.
"A lot of diocesan youth ministry folks are hired by dioceses," she added. "But without an opportunity for professional networking, it's really hard to do that job."
Support for Stronger Together is one of the items in the Anglican Church's 2015 Gifts for Mission catalogue, which provides the opportunity for contributors to make a $50 donation to the program.
While the General Synod of the Anglican Church of Canada began offering funding for Stronger Together last year in recognition of its positive effect on youth ministry, donations through Gifts for Mission provide a critical supplement.
"It could help support travel for leaders who are coming from remote locations and small dioceses who might not be able to send their people to an event," Steers said. "I think that's a big thing. It can provide professional resources … For example, it enables us to bring in guest speakers or facilitators to help increase the calibre of learning."
She pointed to a guest speaker from the Encounter World Religions Centre who will be discussing interfaith understanding at Stronger Together 2015, set to take place from Sept. 29-30 at Loyola House in Guelph, Ont.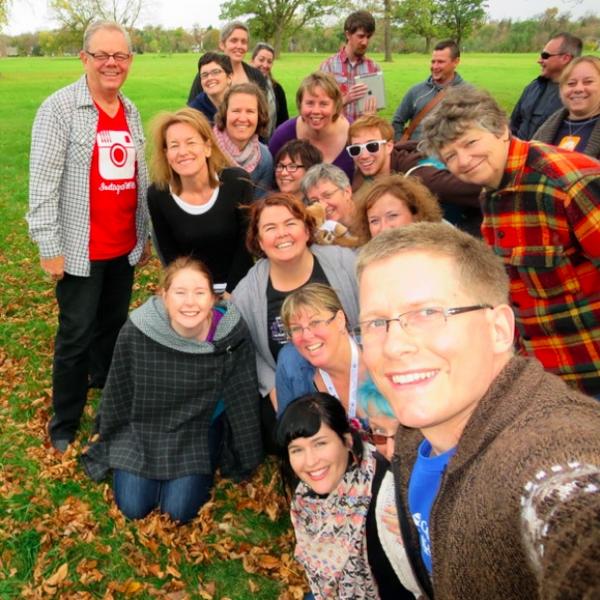 For those who have attended, Stronger Together can leave a lasting impression—as was the case for Caitlin Reilley Beck, children and youth ministries coordinator for the Anglican diocese of New Westminster, who attended the event for three days in 2013.
"The community that you experience there is really supportive," Beck said.
"That is sort of an uplifting thing to bring with you, just to remember when you are back in your parish and maybe feeling lonely or feeling isolated or feeling frustrated by the ministry that you're doing, that there is a community of support out there and you can in fact reach out to them even when you're not together."
Deacon Gretchen Peterson, youth ministry co-ordinator for the ELCIC Saskatchewan synod, attended Stronger Together 2014 in Winnipeg and highlighted its facilitation of networking and the chance to learn from others engaged in youth ministry.
She noted the event's positive effects in further developing the full communion partnership between the Anglican and Lutheran churches, particularly in light of preparations for the 2016 Canadian Lutheran Anglican Youth (CLAY) gathering.
"I think it's a great way for us to continue the partnership," Peterson said.
"This is another way we can partner just to help build up youth ministry in both of our churches, because we're kind of … in a similar situation where we're trying to engage youth," she added.
"I think if we work together, it just makes us better at it and more creative, and hopefully we can reach more kids that way."
---
Interested in keeping up-to-date on news, opinion, events and resources from the Anglican Church of Canada? Sign up for our email alerts .