By Andrea Mann
During Advent, a season of hope and expectation, anglican.ca features weekly stories about Anglicans sharing Christ's hope with the world. Each story connects with a Mark of Mission and includes a giving opportunity through the Anglican Church of Canada's new gift guide, Acts of Faith.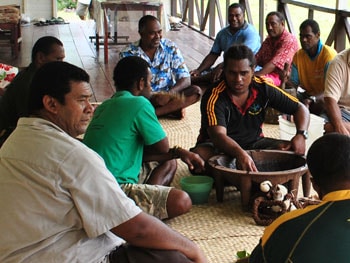 "Preparations for eventual resettlement of South Pacific Island communities must begin now rather than later." -Pacific Conference of Churches Climate Change and Resettlement Program
With these words and the actions that follow, the Pacific Conference of Churches (PCC) is emerging as a leader in the ecumenical climate justice movement. As rising sea levels force migration and threaten the livelihoods of South Pacific people, PCC is increasingly sought after by regional and national churches and civil society groups to advocate for the rights of people marginalized by climate change. PCC's work in this area includes not only human and economic rights advocacy but also disaster risk reduction programs at the community level.
The Anglican Church of Canada has partnered with PCC since the 1990s, and I recently saw their climate change program in action when I visited the community of Viwa Island, Fiji, in November 2010. The results to date have led to exciting and effective adaptations. Local leaders there have recognized their need to understand and respond to rising sea levels, eroding shoreline by tides and cyclonic weather, and warming ocean waters. All of these factors have direct impacts on Viwa Island livelihoods, especially fishing, and upon the land itself.
PCC workshops with Viwa Island chiefs and other leaders have focused on reducing the risk of disaster. Community leaders have applied their learning and increased shoreline mangrove, reinforced the sea wall, re-furbished rainwater collection systems at every home and in central village areas, set up solar panels for electricity, and re-introduced endemic flora and fauna. Workshops also enable awareness and analysis of the links between vulnerability in climate change and poverty, resource extraction, and trade globalization.
Within a five-year plan—Re-thinking Oceania—PCC will foster many such adaptive and advocacy initiatives in response to needs for improved food and fresh water security, for sustainable livelihood, and for ecojustice. PCC's commitment to people, land, and sea goes a long way to ensuring communities will continue to live with dignity despite climate change.
The Pacific Conference of Churches, in Viwa Island and elsewhere in the South Pacific, is "responding to human need with loving service"—the third Mark of Mission. The Marks of Mission were developed by the Anglican Communion and are a priority for the Anglican Church of Canada.
It is the privilege of the Anglican Church of Canada to partner with PCC in this important work.  Support this partnership and others by donating through the Acts of Faith online gift guide.
Links
Read Dr. Mann's reports from her South Pacific trip:
A Call to Mission in the South Pacific
Christ the King Sunday in the Anglican Church of Melanesia
Helping to Make Home Safe
---
Interested in keeping up-to-date on news, opinion, events and resources from the Anglican Church of Canada? Sign up for our email alerts .