Amazing Together, a compilation video of Canadian Anglicans singing "Amazing Grace," has been honoured with a special jury award at WorldFest Houston, an international film festival. The 10-minute documentary includes clips from 500 unique videos submitted after Amazing Grace Sunday in fall 2008. Thousands of Canadian Anglicans filmed themselves singing the hymn on beaches, in parking lots, in cathedrals and even from Kandahar.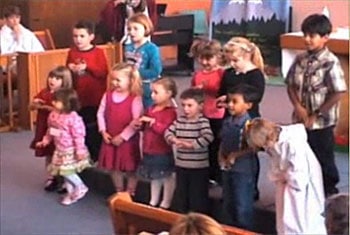 "Winning an award at the WorldFest film festival in Houston is an honour we all share—every single person, group and parish who participated in the Amazing Grace Project," said Anglican Video Senior Producer Lisa Barry. "The judging panel gave us the top award in the Religion, Ethics, and Spirituality category and the reason they cited was 'creative excellence.'"
The creativity started brewing at a national communications committee meeting in 2007. Members liked the idea of Canadian Anglicans sharing their songs of "Amazing Grace," but, as Ms. Barry recalls, there were also concerns: "No one will do it." "People are too busy."
Communications staff decided to take on the project anyway. Led by Ms. Barry, the staff team included Brian Bukowski, web manager; Bev Murphy, manager of circulation, distribution and information systems,Anglican Journal; and Becky Boucher, Anglican Video production manager. They got the word out, then watched the idea catch fire.
"When the videos started arriving, we quickly knew what a great gift was being shared," said Ms. Barry. "From large city parishes with big budgets to remote congregations in the furthest corners of our great country, creativity poured forth." (Check out a map of where submissions came from.)
As an additional act of goodwill, singers were asked to donate a toonie to the Council of the North, the church's northern dioceses. Cheques piled up alongside the videos, and more than $100,000 was raised, which the council eventually decided to use for a suicide prevention program.
By December 2008, the team faced another creative hurdle. How would editor Tim Ford of V-Clips combine 500 videos (some from cell phones, some on VHS tapes) into one watchable film? It took some late nights and elbow grease, but the team got Amazing Together up on YouTube by Christmas. It has been viewed more than 3,000 times.
The creativity and energy from the Amazing Grace Project is still brewing today. Another nationwide video project is in the works—this time with a Christmas carol. The song, and the good cause, will be announced closer to General Synod 2010.
In the meantime, Canadian Anglicans can celebrate the collective success of this award.
"I consider creativity to be one of God's most delightful gifts to us," said Ms. Barry. "I think with Amazing Together, Canadian Anglicans just hit a great big creative home run. What we didn't have in budget, bells and whistles, we made up for in grace and spirit. Heartfelt congratulations to all!"
---
Interested in keeping up-to-date on news, opinion, events and resources from the Anglican Church of Canada? Sign up for our email alerts .