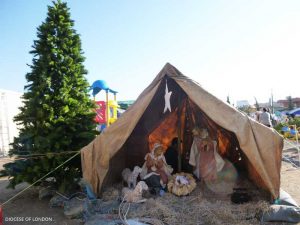 As Christmas Day dawns in Erbil, Iraqi Kurdistan, thousands of Iraqi and Syrian Christians, persecuted daily for their faith, will pray as they have for more than 2000 years with joyful thanks for the birth of Jesus Christ. Dangerously near the area occupied by the Islamic State of Iraq and Syria (ISIS), more than 1.2 million internally displaced Christians and Muslims seek refuge in communities like the Mar Elia Centre in Erbil. These centres are organized and operated by clergy and lay leaders, and by those who seek shelter within. As the Bishop of London reports in the following story, We met no one who regarded the work as somebody else's problem, which is of course a message for churches worldwide.
Syria is part of the Diocese of Jerusalem and there are many Iraqi and Syrian Christians and Muslims living in Canada who are concerned about the welfare of family, friends and displaced people in their native countries. Let us pray with the Diocese of Jerusalem, especially the people and parishes of Syria, and with all who work ceaselessly in Kurdistan to bring shelter, food and clean water, healing and peace to families, children, men and women who, for their faith in Christ, have experienced great hardship and deep suffering.
Read online from the Diocese of London website.
---
Interested in keeping up-to-date on news, opinion, events and resources from the Anglican Church of Canada? Sign up for our email alerts .