Forest fires burning across northern Saskatchewan have resulted in the evacuation of thousands of people from their homes. With Anglicans making up a large percentage of evacuees, church members are providing strong support to local relief efforts while praying for those affected.
More than 12,000 people have been evacuated to homes, hotels and makeshift shelters in Prince Albert, Saskatoon, Regina and Lloydminster, as well as in Cold Lake, Alta. On Friday, July 3, fire destroyed nine homes in Montreal Lake Cree Nation, where there was fear the entire community would be engulfed in flame.
Anglicans have a significant presence in the affected areas, which include communities such as Stanley Mission, Sucker River and Hall Lake where the Anglican Church is the only local church.
To help evacuees, the Primate's World Relief and Development Fundhas pledged a $15,000 donation to support relief efforts by the Prince Albert Grand Council (PAGC), a tribal council of 12 sovereign First Nations with approximately 30,000 members through the northern parts of the province. A majority of the evacuees are from member nations of the PAGC.
Meanwhile, the Anglican Foundation of Canada has offered a grant of $5,000 to support evacuees in northern Saskatchewan.
"Those gifts are signs of the support of Anglicans across the country, and we're certainly grateful for them," Bishop Michael Hawkins of the diocese of Saskatchewan said.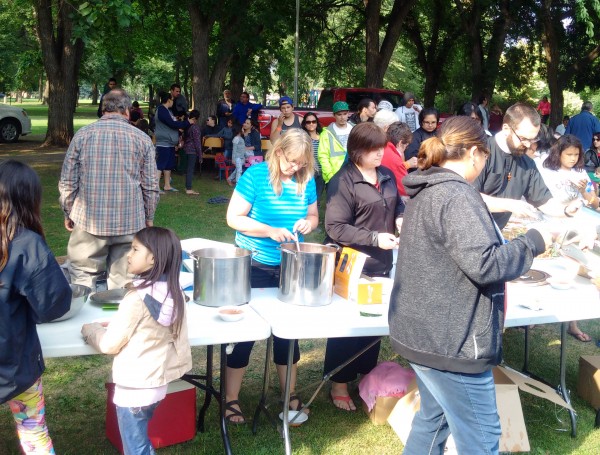 On Sunday, July 5, Anglicans from Birch Hills and Muskoday, along with members of the Roman Catholic Church in Birch Hills, fed approximately 500 people at an outdoor concert to entertain evacuees and raise funds for PAGC's support. Many evacuees had to leave their homes quickly and were left without weather-appropriate clothing or items for children.
Bishop Hawkins and Diocesan Indigenous Bishop of Missinipi Adam Halkett also attended the fundraiser. As a resident of Montreal Lake Cree Nation, Bishop Halkett has been active in helping evacuees in Prince Albert, inviting evacuees to a Sunday service at St. Alban's Cathedral and organizing home-cooked meals.
"There are a couple ladies who were helping that cooked meals for the elders," Bishop Halkett said. "They're not used to restaurant food or fast food, so they'd rather have a traditional meal—traditional meaning wild meat, moose meat, fish."
With his own home threatened by fire, Bishop Halkett is planning to return to Montreal Lake soon with his wife to assess the extent of damage in the area.
At the invitation of Grand Chief Ron Michel, Bishop Hawkins and Bishop Halkett have sat in at one of the daily emergency meetings at the PAGC.
"We'll continue to provide them with moral support," Bishop Hawkins said. "We're blessed with some really fine … leadership in the Grand Council and in the nations, as well as in the towns and villages in the north … They're doing a tremendous job."
In the wake of the fires, Bishop Hawkins has received prayers from Anglicans across the country expressing their concern. Early in June, Archbishop Fred Hiltz, Primate of the Anglican Church of Canada, visited much of the affected area.