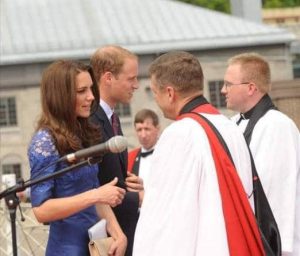 On Sunday 3 July 2011, the Royal couple, the Duke and Duchess of Cambridge were on day three of their visit to Canada.  Sailing overnight they arrived in Quebec City on board HMCS Montréal.  That early Sunday morning they gathered with the ship's company and several Quebec City guests for Morning Prayer, a Divine Service worship service led by our Archdeacon Emeritus, Padre Karl McLean, former Archdeacon to the Canadian Forces and current Chaplain General.
Hymns during worship included Eternal Father, Strong to Save; Guide Me, O Thou Great Redeemer and Je Louerai L'Eternel (Praise, I will Praise You Lord).  The congregation were accompanied by a brass quintet from the Band of the Royal 22nd Regiment.
The visit was praised by the Rt. Rev. Dennis Drainville, the Anglican Bishop of Quebec, one of a number of senior clergy who were part of the service.  Bishop Drainville reported, "The significance (of today) for me and for many Anglicans is very simple.  We have a long association with the monarchy.  William will someday by King and because of that, his opportunity to come here and be among people – Canadians – and learn aboutCanadais very important.  We are diverse."
Vested in choir dress, Padre McLean worn a red cassock, a sign of his office as Queen's Chaplain and his Doctorate of Divinity academic hood awarded by King's College on 19 May 2011.  Kate wore a lacy blue dress by Montreal born, Toronto educated British designer Erdem Moralioglu.  The shade of blue is said to have been chosen to symbolize the blue of Quebec's Provincial flag.
---
Interested in keeping up-to-date on news, opinion, events and resources from the Anglican Church of Canada? Sign up for our email alerts .