The Rt. Rev. Mark MacDonald will assume office as the Anglican Church of Canada's first National Indigenous Bishop after serving about 10 years as Bishop of the U.S. Episcopal Diocese of Alaska where he was consecrated bishop on Sept. 13, 1997.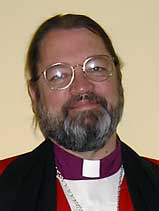 He is far from unfamiliar with Canada, having attended Wycliffe College in Toronto and served as a priest in Mississauga, Ont.
Bishop MacDonald was born on Jan. 15, 1954, the son of Blake and Sue Nell MacDonald. His formal education includes a B.A. in religious studies and psychology at the College of St. Scholastica in Duluth, an M.A. in Divinity from Wycliffe, and post-graduate work at Luther-Northwestern Theological Seminary in Minneapolis.
Bishop MacDonald has had a long and varied ministry, holding positions in Mississauga, Ont., Duluth, Minn.; Tomah, Wis. and Mauston, Wis.; Portland, Ore.; and the Southeast Regional mission of the diocese of Navajoland. Immediately prior to his ordination to the episcopate, Bishop MacDonald was Canon Missioner for Training in the Diocese of Minnesota and vicar of St. Antipas' Church, Redby, and St. John-in-the-Wilderness Church, Red Lake, Red Lake Nation.
He has served on the board of The Indigenous Theological Training Institute; the faculty of Leadership Academy for New Directions (Land XXVIII); and, a trustee of the Charles Cook Theological School in Tempe, AZ; and is the Board Chair for Church Innovations, Inc., member of the Episcopal Council of Indian Ministries, Member of the Governor's Council on Suicide Prevention (AK), President of Alaska Christian Conference. He is also a Third Order Franciscan.
Among his published works are "Native American Youth Ministries," co-authored with Dr. Carol Hampton and published in Resource Book for Ministries with Youth and Young Adults, the Episcopal Church Center, New York, N.Y., 1995; "It's in the Font: Sacramental Connections between faith and environment," Soundings, July 6, 1994, Vol. 16, No. 5; and A Strategy for Growth for the Episcopal Church: Joining Multiculturalism and Evangelism, Inter-Cultural Ministry Development, San Jose, Calif., 1994. He co-edited Liturgical Studies IV, just released by the Church Publishing Company.
Married on Nov. 11, 1989, Mark and his wife, Virginia Sha Lynn, have three children: daughters Rose May Li (born November 15, 1991), Brenna Li (born October 23, 1993), and one son, Adrian Blake (born May 21, 2000).
(Adapted from Bishop Mark MacDonald's official biographical sketch at prepared by the Diocese of Alaska.)
For more information, please contact Vianney (Sam) Carriere, Director of Communications, 416-924-9199, ext 306, [email protected]
---
Interested in keeping up-to-date on news, opinion, events and resources from the Anglican Church of Canada? Sign up for our email alerts .