While zooming through bumpy streets on the back of a motorcycle, hanging on for dear life, Will Ferrey, a Canadian theological intern, considered that this might be his baptism into the theology of Sri Lanka.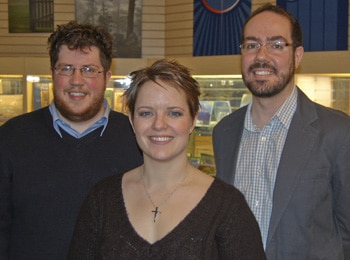 Around the same time, two other interns were also adventuring. Kerri Brennan was visiting the Wailing Wall in Jerusalem and Robert Camara preached a sermon in a small Brazilian church.
It just so happens that the three participants in the 2010 Theological Students International Internship Program(TSIIP) are avid bloggers. During their three-month postings with overseas Anglican partners, they are blogging stories like the ones above.
Only a few years ago, TSIIP participants would share news by email or letter. Now, the open nature of blogs lets the rest of the church peek over the shoulders of these bright students as they experience life overseas.
The three return to Canada later this summer, so now is the time to catch up on their stories and pray for their ministry. Here are some other blog highlights:
Organized by General Synod's Partnerships department, TSIIP is open to Canadian Anglican theological students who are interested in increasing their awareness of global issues, deepening their commitment to the Anglican Church's mission and ministry, and gaining cross-cultural experience.  Students must have completed two years' training and be a postulant for their diocese. Past students have travelled to countries including Belize, Uganda, and South Africa.
For more information, visit the website or contact Clementina Thomas, program associate, mission education and personnel, by email or phone: (416) 924-9199 ext. 361.
---
Interested in keeping up-to-date on news, opinion, events and resources from the Anglican Church of Canada? Sign up for our email alerts .