In rites on November 4-5 at Washington National Cathedral, the Episcopal Church will welcome Katharine Jefferts Schori as its 26th Presiding Bishop.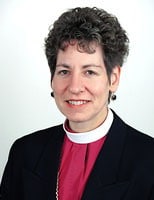 The Cathedral's 11 a.m. All Saints' Sunday liturgy on November 5 will include the formal seating of Jefferts Schori — elected to office June 18 during proceedings of the 75th General Convention — in the Presiding Bishop's cathedra, or official chair. All are welcome to attend the service on a first-come, first-seated basis as capacity allows.
Jefferts Schori's Investiture as 26th Presiding Bishop will occur in the context of a Eucharistic celebration at 11 a.m. on Saturday, November 4, when tickets are required due to seating constraints. General-admission tickets may be requested as posted online at the ECUSA website.
During the Investiture, Jefferts Schori will receive symbols of office, including the primatial staff to be presented by the 25th Presiding Bishop, Frank T. Griswold, whose nine-year tenure concludes as Jefferts Schori's begins on November 1.
General-admission tickets for the Saturday Investiture will be distributed on a first-come, first-served basis by the Office of the Presiding Bishop, which, in consultation with the Cathedral, has sought to achieve the fairest possible manner of ticket distribution. According to policy detailed below, tickets may be requested no earlier than August 15 and by postal mail only.
A webcast at www.episcopalchurch.org will carry the Investiture service live online for those viewing around the world. Applications for credentialing of media representatives wishing to cover the Investiture will be made available online on August 15.
As Presiding Bishop, Jefferts Schori, 52, will become chief pastor to the U.S.-based Episcopal Church, which includes more than 2.4 million members in some 7,600 congregations in 111 dioceses spanning 16 countries.
She will also join the Anglican Communion's Primates Meeting, a body of principal bishops who oversee the Communion's 38 member Provinces, of which the Episcopal Church is one.
Jefferts Schori is the first woman in Anglicanism's five-century history to serve in this capacity. She has served as bishop of the Diocese of Nevada since 2001. A former university professor, Jefferts Schori is an experienced oceanographer and airplane pilot. She and her husband, Richard Miles Schori, a retired theoretical mathematician, have one daughter, Katharine Johanna, 25, who is a first lieutenant and pilot in the U.S. Air Force.
Known as a "house of prayer for all people" and "a great church for national purposes," Washington Cathedral is located on Mount Saint Alban at Massachusetts and Wisconsin avenues in the Northwest district of Washington, D.C. In 2007 the Cathedral will celebrate its centennial of service as the central church of the Episcopal Diocese of Washington.
The Rev. Carol L. Wade, the Cathedral's canon precentor, is coordinating the Investiture liturgy on behalf of Cathedral Dean Samuel T. Lloyd III in collaboration with the Presiding Bishop's Office.
---
Interested in keeping up-to-date on news, opinion, events and resources from the Anglican Church of Canada? Sign up for our email alerts .