"We aren't the same churches that we were 30 years ago," says the Most Rev. Katharine Jefferts Schori, 26th Presiding Bishop and Primate of The Episcopal Church (TEC), "and for that we give thanks."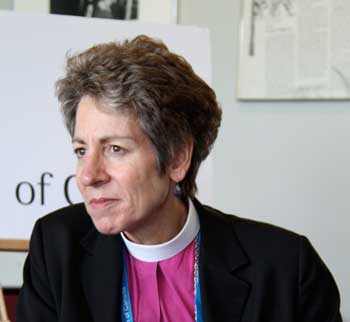 Bishop Jefferts Schori's remarks, in an address on Tuesday, June 8, to members of General Synod 2010, referred to the changing landscapes of both TEC and the Anglican Church of Canada and the continuing relationship between the two churches as they seek to travel alongside one-another.
The address was rich in praise for the partnership between the two churches. "Our common history has usually been about shared mission possibilities," she says, noting specifically that there has often been similar humanitarian response from the Canadian Anglican Primate's World Relief and Development Fund (PWRDF) and TEC's Episcopal Relief and Development.
Episcopal Relief and Development and PWRDF are actively involved in relief efforts in Haiti following a devastating earthquake in January. Bishop Jefforts Schori notes Bishop Jean Zaché Duracin of the Episcopal Diocese of Haiti is working on a reconstruction plan for the affected region. "We will begin to develop with the bishop a church wide plan based on his priorities. Cathedrals, schools, church buildings all need to be rebuilt," she says.
Canadian Anglicans were thanked for their generous response through PWRDF to the disaster and will continue to work alongside one another as the efforts continue in the coming weeks, months and years.
At the foundation of the mission of TEC is the Five Marks of Mission, which is widely used throughout the Anglican Communion and also a core document in the Anglican Church of Canada. The priorities, "hold up what it means to be fully engaged in God's mission," says Bishop Jefferts Schori.
Noting that TEC is not immune to challenges in its work of the wider church, Bishop Jefferts Schori says the Five Marks of Mission provide the church with a clear sense of focus.
Looking forward, Bishop Jefferts Schori feels that there are ways TEC and the Anglican Church of Canada can partner together in even more significant ways. Ministry to Indigenous peoples is one area she feels Canadian Anglicans could offer a lead role. Other areas of partnership include advocacy work, leadership development, and issues of resource use.
"Together we have the ability to speak truth to power," says Bishop Jefferts Schori. "Our voices could be greatly strengthened by partnership; our common voice and varied context would enrich dialogue."
Over 350 delegates and special guests have come from coast to coast to coast across Canada for this nine-day event, which takes place each triennium. Further details and highlights are available online at www.anglican.ca.
---
Interested in keeping up-to-date on news, opinion, events and resources from the Anglican Church of Canada? Sign up for our email alerts .