Awkwardness can abound whenever a minister takes up a new post: maybe the congregation is still basking in "the halo effect," from their previous, near-angelic cleric. Or maybe the new clergywoman keeps crossing signals with the parish council.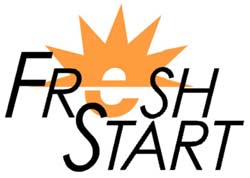 The Fresh Start program aims to help clergy and congregations through the crucial first two years of new ministry. This popular program is expanding, and a facilitators' training session will be offered April 14 to 16 at Mount Carmel Spiritual Centre in Niagara Falls, Ont.
"During transition times we're ripe for change," said the Ven. Janet Griffith Johnson, Fresh Start coordinator. "Everybody is eager and enthusiastic about things like role clarification and looking at the history of the parish. If everybody understands why we are the way we are we can make some changes about not repeating our mistakes."
Fresh Start first began as a US Episcopal Church project to improve clergy wellness. Ten years ago the church began to pay attention to studies showing that clergy suffered the same high levels of stress as doctors, firefighters, or police. Their emotional disarray was manifested in high rates of divorce, alcohol and drug abuse, and sexual misconduct. Fresh Start was then designed to help clergy and congregations set up positive patterns at the outset of a new ministry.
The Canadian church got wind of this program around 2000, and the Ecclesiastical Province of Ontario sent nine ministers south to learn about Fresh Start. The delegation was impressed with the material and its adaptability, so they "Canadianized" it, developing a congregational stream for lay people to work through the transition alongside their minister.
Fresh Start has been a hit in Canada, and the program has been used in nine dioceses. Each adapts the program differently, but usually the diocese offers two separate streams-clergy and lay-to coach people through the transition. Initially the two were held together, but as Archdeacon Griffith Johnson puts it, "when we realized how much people were prepared to share in Fresh Start…we realized we needed to keep it as a safe place."
Archdeacon Griffith Johnson has seen success. One of her stories features a parish "in turmoil, because the new minister seemed to do everything wrong." He was attending the Fresh Start program, but the church members felt too tired and busy to go themselves. It was only after much coaxing that they joined in, and learned a great deal about conflict management, decision-making, history sharing, and role negotiation.
"Then they were able to talk respectfully about those issues," she said. "They were using the same language because they had both been to Fresh Start."
The Fresh Start facilitators' training is structured around worship and practice teaching, and will equip future resource people to lead Fresh Start programs in their dioceses. The cost is $650, which covers room, board, and all materials needed to launch and maintain Fresh Start. If you are interested in going yourself or sending diocesan representatives, email Archdeacon Janet Griffith Johnson or call her at the Diocese of Montreal office: (514) 843-3221.
---
Interested in keeping up-to-date on news, opinion, events and resources from the Anglican Church of Canada? Sign up for our email alerts .