Located on the south shore of the St. Lawrence River in Québec, the Kahnawà:ke territory of the Kanien'kehá:ka (Mohawk) people, faces an issue shared by First Nations communities across the country: the preservation of its language and culture.
Out of a population of approximately 8,000 people, less than 200 speak Kanien'kehá:ka as their first language. The majority of native speakers are elders, whose advancing age means that that number declines further each year.
Referring to the proportion of native speakers, Reaghan Tarbell, executive director of the Kanien'kehá:ka Onkwawén:na Raotitióhkwa Language and Cultural Center, noted, "That really … shows you that a significant number of the population does not know the language, and we need to try and reach our different segments of the population any way we can."
The Kanien'kehá:ka Onkwawén:na Raotitióhkwa Language and Cultural Center is one of the beneficiaries of Save a language from extinction, an item in the Anglican Church of Canada's 2015 Gifts for Mission gift guide that allows contributors to donate $50 towards programs across Canada that help preserve First Nations languages and cultural heritage.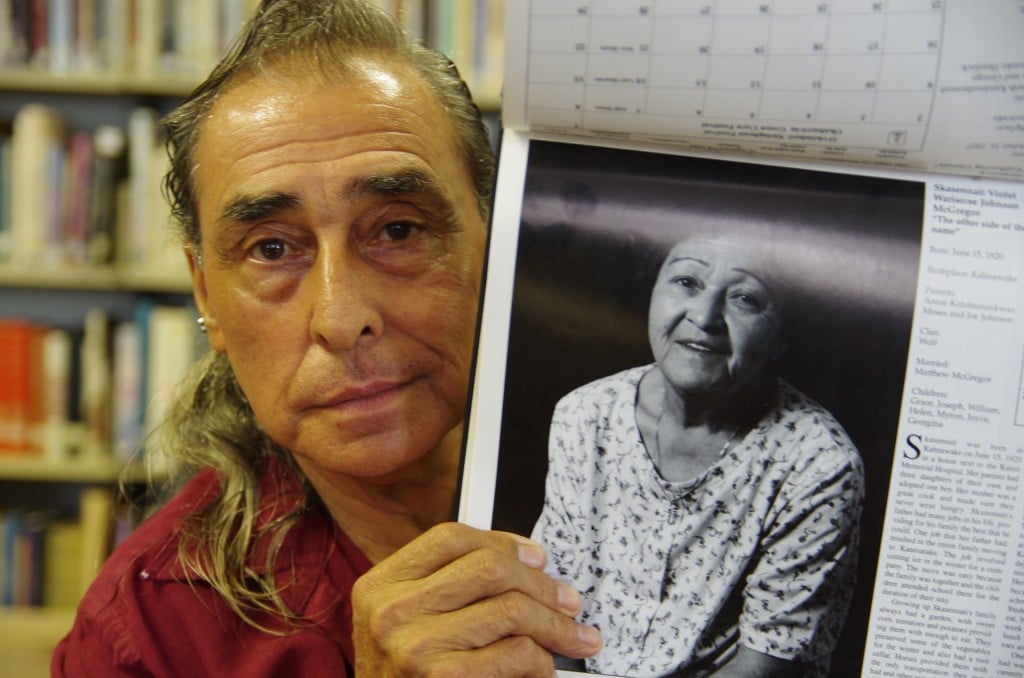 The Primate's World Relief and Development Fund (PWRDF) initially developed an Indigenous people's development program through a series of consultations in 1996-97 with First Nations communities that identified the preservation of language and culture as a top priority. All funds allocated to partners by PWRDF come from donations by Anglicans.
Jose Zarate, Canadian Indigenous communities and Latin America-Caribbean development program co-ordinator for PWRDF, reiterated the concern among First Nations communities on the urgency of promoting language training and curriculum development as native speakers of Indigenous languages die without anyone to take their place.
"They are very aware that they have to have a language," Zarate said. "Through the language they will have identities. Through the language they will have cultural values—through the language, the preservation of knowledge."
PWRDF works with First Nations communities across Canada, including the Kanien'kehá:ka in Québec, Nuu-chah-nulth in British Columbia, Siksika in Alberta, Nishnawbe-Askin in Ontario, and Mi'kmaq in Nova Scotia.
Each community has varying needs, which it discusses in formal meetings with PWRDF before submitting proposals for funding. Projects to help preserve languages have included dictionaries, storytelling books and videos, and social media pages for community languages—all with close consultation by the elders most knowledgeable of those languages and traditions.
At the Kanien'kehá:ka Onkwawén:na Raotitióhkwa Language and Cultural Center, PWRDF has been a long-time source of funding for three different programs:
The Kanien'kéha Ratiwennahní:rats Adult Language Immersion Program, a two-year course with funds going towards student supplies, activities and trips to other language programs;
Tóta tánon Ohkwári, a children's Mohawk-language puppet show that airs on local cable television, with funds going to supplies, drawings, script writing and translations; and
Cultural workshops that feature speakers throughout the year on topics relevant to the community or First Nations people in general, including history, culture, and the making of traditional handicrafts such as moccasins and beadwork.
Additional funding that previously went towards a Kanien'kehá:ka-language summer camp now goes to a rites of passage program that provides a safe environment for young women making the transition to adulthood by incorporating language and cultural teachings.
The variety of programs helps target different demographics. Now in its 12th season, Tóta tánon Ohkwári uses what Tarbell refers to as the "Sesame Street philosophy" to introduce and reinforce the Kanien'kehá:ka language to young children.
Tota and Ohkwari Clip 1 from Thomas Deer on Vimeo.
Meanwhile, Ratiwennahní:rats allows adult learners to become proficient in the language. Since its inception in 2002, approximately 162 students have graduated from the program.
"While they wouldn't be characterized as fluent, they can carry a conversation, they can communicate, they can express their thoughts," Tarbell said. "This is significant, because it also has a rippling effect.
"Many of the people who take this program have young children at home who are taking immersion … What educators were finding before is that young children who went to immersion school would speak it in the classroom, they'd go home [and] they'd have nobody else to speak to, so they'd of course speak English. So now it's helping to bridge the gap."
---
Interested in keeping up-to-date on news, opinion, events and resources from the Anglican Church of Canada? Sign up for our email alerts .