Women in many parts of sub-Saharan Africa face a range of challenges during childbirth. One of the most significant is a lack of electricity that powers critical equipment—a loss that can strike at the most critical moments.
During a 2008 trip to Nigeria, Dr. Laura Stachel, an obstetrician-gynecologist, , witnessed night-time deliveries that were often carried out in almost total darkness. The purpose of her trip was to find ways to reduce maternal deaths during childbirth, and Dr. Stachel found out first-hand that precarious electricity and the lack of light can lead to tragic consequences.
With her husband Hal Aronson, an educator in solar energy in Berkeley, California, Stachel co-founded WE CARE Solar, a non-governmental organization dedicated to improving maternal health outcomes in regions without reliable electricity. Its signature product is the solar suitcase, a portable power unit that draws energy from sunlight to provide light for clinics.
In Mozambique, the Primate's World Relief and Development Fund (PWRDF) is providing solar suitcases to clinics across the country, with 28 of 30 solar suitcases installed in August and September. Through the 2016 Gifts for Mission gift guide, Canadian Anglicans can purchase a $600 gift to help purchase and install a solar suitcase in a health clinic, improving the well-being of the whole community and potentially saving lives.
The solar suitcase consists of a hard yellow plastic exterior that when shut is both dust-proof and waterproof. Inside the suitcase is a control panel and lithium battery with four lamps to help provide light during births. Users can put in rechargers for AA and AAA batteries as well as cellphones. The suitcase also contains a fetal Doppler for measuring the heartbeat of the foetus inside the womb.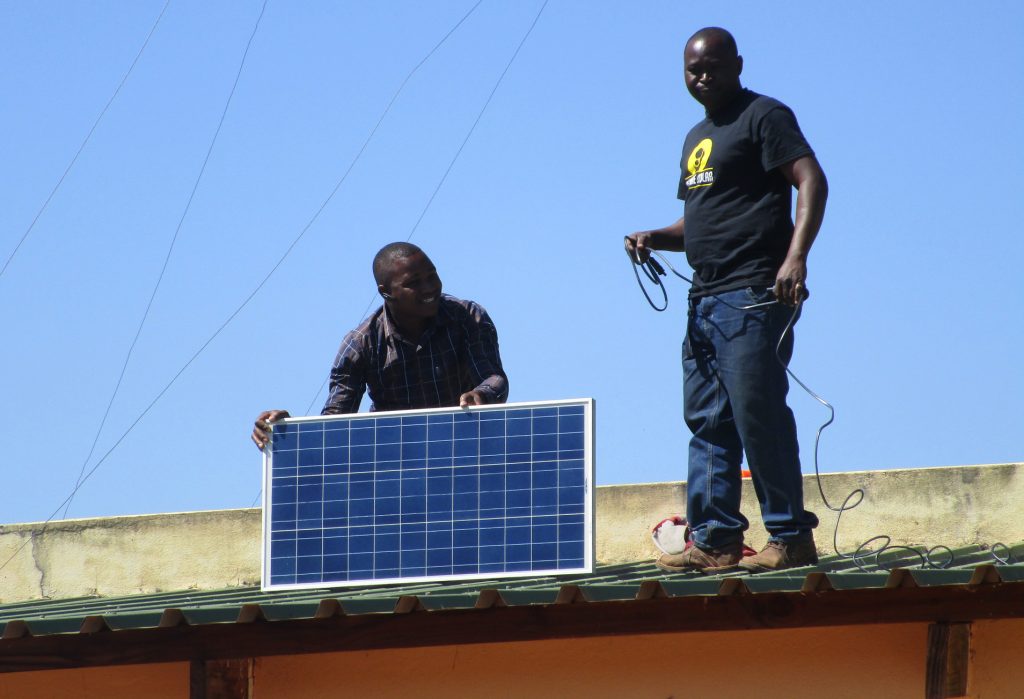 Solar panels installed on the roof of clinics capture sunlight and convert it into electricity in a box underneath it. PWRDF external funding program manager Richard Librock said that the solar suitcases—which cost approximately $2,860 apiece—serve "to enhance the working conditions of the people there so they can do their work properly and deliver babies, and particularly for the health of the woman."
Librock travelled to Mozambique during the summer to help oversee the installation of the solar suitcases. He recalls episodes in which doctors and nurses conducted deliveries at night with only the light of a cellphone, or a crude light source resembling a Bunsen burner. In some cases where women giving birth at night suffered tears during the delivery, they had to wait until daylight for surgery to be performed.
But in clinics where the solar suitcases have been installed, Librock said, "for the first time, the operation there has light in all places where babies are delivered."
Training is a key part of using the solar suitcases—provided by "solar ambassadors" who help teach staff members in health clinics how to use the equipment, which requires relatively little maintenance after installation. Both a full curriculum and an abbreviated user manual have been translated into Portuguese.
"With the solar equipment, everything has to be in balance." Librock said. "The amount of sunlight you're capturing with the solar panels has to be accommodated by the size of the batteries. If you have too much energy coming through with not enough capacity in the battery, it can fry the whole batteries and the control panel, and this did happen."
When proper instruction is provided, parts are replaced as they wear out, and the solar panels are installed in a part of the roof to maximize sunlight exposure, each solar suitcase can provide a clinic with reliable, sustainable electricity for years to come.
Install a solar suitcase in a health clinic through Gifts for Mission.
---
Interested in keeping up-to-date on news, opinion, events and resources from the Anglican Church of Canada? Sign up for our email alerts .