Archbishop Emeritus Desmond Tutu commends the "exciting and promising initiative".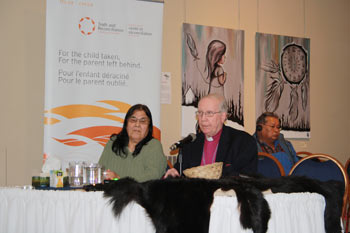 The Anglican Communion's Anglican Peace and Justice Network (APJN) has launched a worldwide survey to gather the experience of Anglicans and Episcopalians who have taken part in national or local truth and reconciliation commissions.
The aim is to learn from Anglican contributions to past and present truth and reconciliation processes. The information received will be used to create resources and mechanisms to support Communion churches who may become involved in such reconciliation work locally. It will also identify Anglicans and Episcopalians who can offer insight and advice.
APJN convenor South African Ms Delene Mark anticipates a wealth of information from the APJN survey which has been addressed initially to the Primates* and Provincial Secretaries of the 38 Provinces of the Anglican Communion, as well as the Bishops of extra-provincial dioceses.
"We have already received details of Anglican engagement with truth and reconciliation processes associated with ethnic conflict, slavery and racism, the exclusion of people experiencing the sharp end of poverty from decisions made about them, and two national initiatives concerned with the legacies of the separation of Aboriginal children from their parents", she said.
"APJN member Bishop Terry Brown, who has himself been deeply involved with the Truth and Reconciliation Commission in Solomon Islands, has pointed out that since 1970 there have been nearly 90 Truth Commission-related activities around the world following historic or recent periods of armed conflict and major human rights abuses. Now is a good time to look at what we have learned and discern mechanisms and resources to build up and support the participation of our churches in their own contexts."
The move has been welcomed by Archbishop Emeritus of Cape Town, Dr Desmond Tutu, who himself chaired South Africa's Truth and Reconciliation Commission at the end of apartheid in his country.
"This is an exciting and promising initiative", he said. "Truth and Reconciliation processes are complex but they are a vital means of bringing wholeness, healing and peace to a world where many of the deep wounds of the past prevent our whole human family from enjoying abundant life.
"We have a huge amount to learn from one another. Drawing together what we have already discovered will encourage us and equip us to do more of this liberative and life-bringing work."
The Primate of the Anglican Church of Canada, the Most Revd Fred Hiltz, also endorsed APJN's initiative. "As people of God who vow at their baptism to respect the dignity of every human being and strive for justice and peace among all people, we have a solemn obligation to support the mandate of the Truth and Reconciliation Commissions.
"Their work of addressing historic injustices and their horrific legacies requires a deep commitment over time, sometimes a very long time. It requires courage to hear the truth and its teller with reverence. It summons us to the hard work of apology with integrity. It calls us to be patient in the time it takes for acceptance of apology. Beyond these moments is the task of restoring right and just relations and in some cases forgiving them for the first time ever.
"The Anglican Church of Canada is committed to supporting the work of Canada's Truth and Reconciliation Commission addressing the legacy of colonialism and a historic federal government policy of assimilation of Indigenous Peoples through the Indian Residential Schools."
Archbishop Hiltz referred to the prayer that accompanied 'Remembering the Children',† an Aboriginal and Church Leaders' Tour of Canadian cities undertaken in 2008 to prepare for Truth and Reconciliation. "There is much to learn", he reflected, "as we dare to dream of a path of reconciliation where apology from the heart leads to healing of the Heart.
"For people of faith a Truth and Reconciliation Commission is about the work of the gospel. It's about an honest coming to terms with the ways in which one people or in some cases a number of peoples have been wronged through the political systems of others. It gets at the evil of racism and the way in which it rears its ugly head and hand as one people looks down upon another people and intentionally seeks to dismiss their history, suppress their language culture and traditions, and crush their very spirit and dignity. The work of a Truth and Reconciliation Commission is about truth-telling, repentance and renewal. It is hard work borne of a strong hope and sustained by an enduring commitment to walk together in new and different ways grounded in respect and justice for all."
Archbishop Hiltz called APJN's survey "a powerful sign" of the Anglican Communion's commitment to its Marks of Mission, particularly the fourth Mark: To transform unjust structures of society, to challenge violence of every kind, and to pursue peace and reconciliation.

ENDS
Notes to editors

·  The Anglican Peace and Justice Network is a formal, international Network of the Anglican Communion which seeks to provide mechanisms for sharing justice and peace issues from local contexts and giving access to the wider Communion for prayer, partnership and joint witness. Visit the APJN website.
· *Primates are the most senior bishops in each Province or Member Church of the Anglican Communion.
·  Visit the Remembering the Children website.
---
Interested in keeping up-to-date on news, opinion, events and resources from the Anglican Church of Canada? Sign up for our email alerts .