A Church of England call for prayers for the media has prompted reflections on the Canadian context.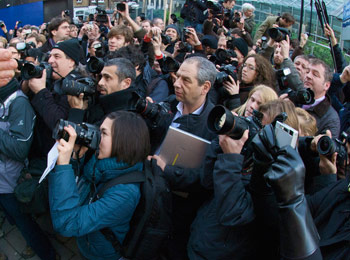 Christians and churches in the United Kingdom have been encouraged to pray for the media on May 12, responding to a call issued by Christian charity the Church and Media Network.
Canadian Anglicans have responded to this call by reflecting on the media landscape in this country. Following are three insights from Anglicans involved with communications and journalism in Canada.
Archdeacon Paul Feheley, interim editor of the Anglican Journal:
"The 'call to prayer' will be handled very differently by faith groups around the world because of a variety of relationships with the media. For Canada, my prayer would be centred on building a better relationship between the church and the secular media. A renewed relationship would create opportunities for the media to tell the church's stories of justice that, at the present time, are too often neglected, but for which society has an abiding interest."
Robert Snow, recent graduate of Carleton University's Master of Journalism program, and director of A Leap of Faith documentary:
"I would suggest that people pray that the media can continue to restructure itself, to better value young additions to the industry. I might also pray that the media try harder to overcome the temptation to indulge in opinion-only coverage. Finally, I would pray that the wider community try harder to recognize the work of the media, and be willing to pay for the invaluable service they provide, in the interest of preserving democracy and righting wrongs in society."
The Rev. Canon Milton Barry, chair of General Synod's Communications and Information Resources Committee:
"I will pray first and primarily for those who are on the front lines of the media, that is for investigative reporters who seek to provide the general public with 'the whole story.' May God grant them grace,courage,wisdom and compassion.
"I will then pray for the owners of the media outlets that they would be graced to be encouragers and defenders of their front line reporters.
"And finally I will pray that both might be instruments for good in contributing to the knowledge that allows society to grow in civility."
---
Interested in keeping up-to-date on news, opinion, events and resources from the Anglican Church of Canada? Sign up for our email alerts .