The following is the second instalment of a four-part series on the Anglican presence at the 2018 Parliament of the World Religions. Read part one, part three, and part four.
The Rev. Canon Gary van der Meer, pastor and incumbent at St. Anne's Anglican Church, was one of the Canadian Anglicans leading workshops and panel discussions at the 2018 Parliament of the World's Religions.
Currently serving as an interfaith officer for the Anglican Diocese of Toronto, van der Meer has previously worked parishes in Orillia, Port Perry, and High Park. He took on the position of parish priest at St. Anne's in 2011. His experiences at St. Anne's have provided extensive experience on how to conduct effective interfaith ministry.
Van der Meer's workshop, Creating Interfaith Friendships Between Congregations and Communities to Counteract Hate, drew upon his friendship with Rabbi Elyse Goldstein of the City Shul synagogue and Imam Shabir Ally of the Islamic Information and Dawah Centre. Both Rabbi Goldstein and Imam Ally co-presented the workshop with him.
"A lot of people write religion off, because they think it's all intolerant and it's all the same," van der Meer said. "Our public friendship creates a different narrative about the positive role of religion in people's lives."
For the last five years, St. Anne's, City Shul, and the Dawah Centre have cultivated a public friendship and cooperated together on a number of fronts. Most prominent of these have been the "rings of peace" formed by Christians, Muslims, and Jews around mosques in the wake of the 2017 Quebec City mosque shooting, and around synagogues following the 2018 massacre at the Tree of Life synagogue in Pittsburgh.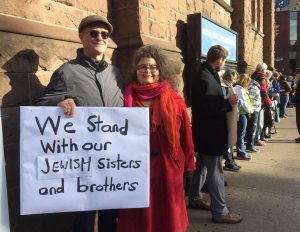 Speaking at the workshop, van der Meer at the workshop described his efforts to "court" the rabbi and imam.
"I went out of my way to get in touch with them," he recalled. "They had an experience which would be quite typical, which is that in the realm of all the nice things you could be doing, there are the pressing urgent ones, and interfaith dialogue isn't necessarily one of those.
"I think it was really when we had the ring of peace, in both cases, that they came to a different perspective of, 'We live in a changed world. We actually have much to gain [as friends], and even much to lose if we're not friends.'"
---
Interested in keeping up-to-date on news, opinion, events and resources from the Anglican Church of Canada? Sign up for our email alerts .