Anglican Journal directors have voted to ask the Council of General Synod to dissolve the corporation and return the national newspaper to a form of governance under the General Synod.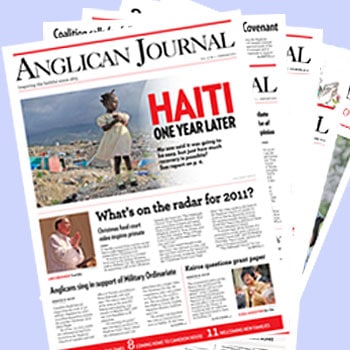 The editorially independent newspaper was separately incorporated in 2002 as a means of ensuring that it and the diocesan newspapers that depend on it for distribution would survive if the General Synod went bankrupt as a result of litigation arising from residential schools.
The board, meeting in Mississauga this week, received assurances from General Synod directors that the change is governance status would not affect the independence of the Journal or its status as a recipient of subsidies from Heritage Canada.
The Journal, although partly funded by the General Synod, has always been an independent voice, the content of which is under the editor's sole control.
Heritage Canada, which provides postal subsidies for distribution of the national and diocesan newspapers, has assured the church that although editorial independence is a necessary criterion for receiving subsidies, the form of governance is irrelevant.
The Journal is distributed to all identifiable Anglicans in the country who also receive their diocesan newspaper with the national publication.
Prior to incorporation during the residential schools crisis, the Journal reported to a sub-committee of CIRC.
The board heard from both the Treasurer of the General Synod and from the Director of Communications that wrapping up the corporation would result in significant savings, both in costs and in staff time spent to meet the requirements of a separately incorporated body.
The motion adopted by the board, asks the Council of General Synod, which owns the corporation, to take the necessary steps to dissolve it, and to ask the standing committee on Communications and Information Resources to report back to it on an alternative method of governance.
The motion, which was approved with two abstentions but no opposing vote, suggests that CIRC itself could sit, during part of its regular meetings, as the Standing Committee for the Anglican Journal. The committee, under this model, would be publisher of the newspaper, work with the editor to safeguard the newspaper's independence, and be available to support staff.
The board also approved a draft five-year business plan for the Journal aimed at reducing financial dependence on the General Synod.
---
Interested in keeping up-to-date on news, opinion, events and resources from the Anglican Church of Canada? Sign up for our email alerts .