Bishop Terry Michael Brown of the Diocese of Malaita officially retired August 18 as spiritual leader of one of the largest dioceses in the Church of Melanesia in the Solomon Islands.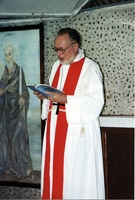 Originally from Canada, Brown was consecrated and installed as the fourth bishop of Malaita in 1996.
During his tenure as bishop "much has been done and fulfilled in the areas of basic Christian education and strengthening the local Church, ministry training, support for local church's and diocesan programs and self support," a diocesan news release said.
"He has made huge impacts on improving the life and development of the church by helping communities achieve their basic needs to have better rural water supplies around Malaita, improved human resource development and leadership training, as well as infrastructure development in the main centers of the diocese."
The first Canadian bishop to serve in Melanesia, Brown has worked to improve ecumenical relations in Malaita province and has been involved in liturgical development and worship through the Liturgy and Worship Commission. He was one of the strongest vocal Christian leaders on justice issues in the Solomon Islands during the turmoil of the ethnic tensions and at other critical times.
Brown first visited the Solomon Islands as a missionary and lecturer at Bishop Patteson Theological College in 1976 under a partnership program of the Anglican Church of Canada and the Church of Melanesia. He lectured in history and other areas of theology for six years before returning to Canada at the end of 1981 to become a project desk officer for the Asia and Pacific mission office based in Toronto, Canada.
"Bishop Terry is a hard working bishop who has deeply entered the life of Melanesia," the diocesan news release said.
The Church of the Province of Melanesia was formed in 1975 after 118 years of missionary association with the Church of the Province of New Zealand. The province is composed of eight dioceses throughout the Republic of Vanuatu, Solomon Islands, and the French Trust Territory of New Caledonia, both sovereign island nations in the South Pacific.
---
Interested in keeping up-to-date on news, opinion, events and resources from the Anglican Church of Canada? Sign up for our email alerts .