On April 25, 1960, five young men stood in a brand new Ottawa church and committed themselves to the Anglican priesthood. They stood on the cusp of the swinging sixties. There were around 1.3 million Anglicans in Canada. The Book of Common Prayer was the only liturgy in the pews.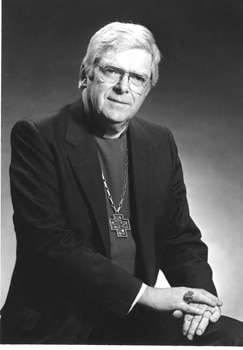 Now 50 years later, three of those men—the Ven. Allan McGregor, the Rev. Canon David Lethbridge, and Archbishop Michael Peers, former Primate—plan to gather again at this church to celebrate God's faithfulness through their ordained ministries.
All are invited to join in this special Eucharist at St. Thomas the Apostle, 2345 Altavista Drive, Ottawa, Ont. on April 25, 2010, at 10:00 a.m. Archbishop Peers and the Ven. Allan McGregor will co-celebrate at a service that will include a brass quintet. A brunch will follow.
Archbishop Michael Peers was assistant curate at St. Thomas the Apostle in 1960 and held other posts in the dioceses of Ottawa and Qu'Appelle before serving as Primate from 1986 to 2004. The Ven. McGregor and Canon Lethbridge served in various ministries in the Diocese of Ottawa. The two other men ordained that day in 1960 were Stan Haskell, who joined the Roman Catholic Church, and the Very Rev. Harry Hobbs, who was killed in a 1979 car accident.
For more information on the Eucharist and celebration, call St. Thomas the Apostle, Ottawa, at (613) 733-0336 or send them an email.
---
Interested in keeping up-to-date on news, opinion, events and resources from the Anglican Church of Canada? Sign up for our email alerts .