June 25 marks the International Day of the Seafarer, an annual occasion designated by the International Maritime Organization to recognize the contributions of seafarers who operate the cargo ships that provide many of the goods and materials we use every day. Since 1856, Anglicans have helped promote the well-being of seafarers and their families through the global outreach ministry Mission to Seafarers. Its Canadian region, Mission to Seafarers: Canada, operates in ten centres across the country stationed by full-time and part-time chaplains.
As the International Day of the Seafarer approaches, many Mission to Seafarers centres across Canada are planning special events to mark the occasion. In Halifax, Mission to Seafarers will be inviting the public to an open house and holding its annual luncheon with the local Filipino community, joined by the mayor and other dignitaries.
In Thunder Bay, the local Mission to Seafarers is hosting the annual Blessing of the Fleet ceremony featuring a pipe band and short service with prayers, a memorial for all those who have died at sea, and a blessing of vessels on the water.
"Seafarers play a vital role in our economy," said the Rev. Canon Ed Swayze, a naval chaplain with the Anglican Military Ordinariate and part-time chaplain at Mission to Seafarers Thunder Bay.
"Here in Thunder Bay, we ship eight million tons of grain a year," he said. "Well, that's grain that's grown in the Prairies, and so the seafarers are a link in that chain back to the farmer. If you look at sea containers, right now NAFTA's talking about percentage of all the parts in cars; well, the parts that come from offshore come in a sea container, and they're brought here by seafarers.
"In Eastern Canada, most of our gasoline and petroleum products comes from the refinery in Saint John. Well, the ship brings the oil to the refinery at Saint John […] When you drive your car, the gasoline you've got at some point in its life was transported on a ship."
For chaplains, the work of ministry with seafarers begins with visiting merchant ships that come into port and speaking with crew members, striking up conversation and asking whether there are any issues onboard.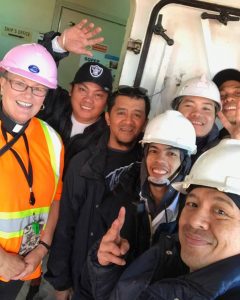 "Most seafarers don't have a lot of people in their work life that they can [put their] trust in," the Rev. Maggie Whittingham-Lamont, chaplain for Mission to Seafarers Halifax and regional director for Mission to Seafarers Canada.
"They know that when they see the flying angel logo, they've found someone who they can confide in, they can trust in, and anything they tell us will be dealt with to the best of our ability without endangering their position onboard ship or endangering their future employment, which is always an issue."
Inquiring into the welfare of those onboard, chaplains will sometimes discover issues such as unpaid wages or insufficient food. Many seafarers come from nations such as the Philippines, India, or countries in Eastern Europe where average wages are much lower to start with.
To help assist with any needs that are raised, chaplains will orient crew members to services offered by Seafarers' Centres located near the ports.
These centres offer conveniences such as small shops to buy toiletries and souvenirs, and stockpiles of used clothing to keep warm, since many seafarers find the cold Canadian weather a chilly surprise. All centres have a van used to transport seafarers, operating as a free service while accepting donations. Chaplains will often use the vans to take seafarers ashore to do shopping or even sightseeing.
Because many seafarers have little access to shore leave—often as little as two days per month—Mission to Seafarers also help them get in contact with loved ones by connecting them to Wi-Fi, selling SIM cards, and helping them to wire money back home.
"We're not the only way they can do that, but we have a role in helping them communicate with their family, and I think for everybody, family support is important," Swayze said. "It's a primary support in our lives."
Over the last few decades, the nature of ministry to seafarers has gradually changed. Where in the 1960s, it was common for a ship to be in port for two weeks, today a typical duration is between five to eight hours.
With advances in communications technology, chaplains often stay in contact with seafarers even after the latter have left harbour.
"I just spent my whole lunch break talking via Messenger to a seafarer that's heading into New Zealand tomorrow, but they have a problem onboard and so he'd message me to talk about it, and to see if there's anything I can do about it," Whittingham-Lamont said.
"So it's not just locally—with computers and the Internet, we've sort of become cyber-chaplains as well as on-the-ground chaplains."
Mission to Seafarers offers Seafarers' Centres with full-time chaplains in Halifax and Vancouver. Centres with part-time chaplains operate in Toronto, Hamilton, Oshawa, Thunder Bay, and Saint John. All Canadian missions are locally funded.
---
Interested in keeping up-to-date on news, opinion, events and resources from the Anglican Church of Canada? Sign up for our email alerts .