The Primate, Archbishop Andrew Hutchison has appointed Archbishop Terence Finlay as his special representative on residential schools.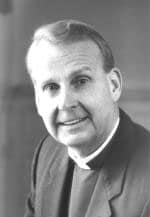 Archbishop Finlay will be working with General Synod staff and volunteers to support the Anglican church's commitment to resolving claims and promoting healing and reconciliation initiatives.
He will also be representing the Primate at some selected places to interpret the Anglican church's position. He will be a member of the ecumenical working group, the public inquiry working group and will attend meetings at the office of Indian residential schools resolutions, among other tasks.
"I am grateful that Archbishop Finlay agreed to take on this enormous task," said Archbishop Hutchison. "We were having a difficult time staffing the meetings, some of which were of great importance," he said.
Archbishop Finlay, who recently retired as the Archbishop of the diocese of Toronto and Metropolitan of the ecclesiastical province of Ontario, says it is a "privilege to serve both the primate and the church," but noted that one of the major challenges in his new role "is rebuilding a trust between aboriginal communities and the church across Canada."
The residential school system has fractured and broken communities, it will take time to build trust and heal the wounds, said Archbishop Finlay. "I feel vulnerable, but I will listen and I hope that through me they will hear the apology of the church," he said.
Anglican diocese across Canada have given a positive response to the residential schools Settlement Fund and many creative healing and reconciliation programs have been initiated, said Archbishop Finlay. "I will encourage that energy and enlarge it as we seek to build communities and reconciliation in the aboriginal communities," he said.
Currently Archbishop Finlay has been orienting himself to his new task. He has attended meetings of the working caucus of the alternative dispute resolution (ADR) in Ottawa, and has attended a roundtable meeting of a truth commission. In March he will be attending a meeting of the Anglican Council of Indigenous Peoples.
He will also attend regular meetings with key General Synod staff who deal with indigenous issues.
"We have been receiving warm responses to Archbishop Finlay's appointment," said Ellie Johnson, director of the Partnerships department of General Synod. She said that Archbishop Finlay "is a good listener, he speaks with sensitivity and because of his stature both inside and outside the church, he is a good candidate for this position."
---
Interested in keeping up-to-date on news, opinion, events and resources from the Anglican Church of Canada? Sign up for our email alerts .